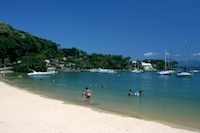 Book cheap flights to Brazil by selecting an airport destination in Brazil below. Compare flights to Brazil from over a hundred airlines worldwide and book online with us today.
Brazil, located in Eastern South America and bordering the Atlantic Ocean, is a country, which is successful in attracting more and more tourists each year. With a climate that is mostly tropical and some of the most beautiful beaches in the world, there is little wonder that the tourist industry in the country is thriving.
Brazil's capital city is Brasilia, which was planned and built on a virgin site; it was officially completed in 1960. The city has the highest population in Brazil and is home to Brasilia International Airport, one of the busiest in the world. Other major cities in the country are Rio de Janeiro, perhaps the most famous of all for its carnival and stunning beaches; Salvador; Sao Paulo and Manaus.
Some of the most popular tourist attractions in the country include the Iguaca Falls, arguably the most famous of them all; The Golden Coast, home to some of the world's most spectacular beaches; The Amazon Rainforest, which is home to many species of plants and animals that do not exist anywhere else in the world, and The Plantanal, a large swamp, renowned as being the best place to observe wildlife and unusual plants in the country.
Brazil's agriculture, mining and service industries are very important to the country's economy, which is one of the largest in the world. Over half the country's workforce is employed in the service industry, which accounts for its fabulous tourist ratings and excellent level of visitor satisfaction, year after year.