A Gothic city full of Treasures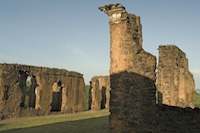 The port city of Vitoria, which is the capital of the state of Espirito Santo, dates back to 1551. This island city, with its perfect combination of history and modern mixes, is an ideal destination for those seeking something a little different.
Vitoria is one of only three Brazilian capitals that were built on islands and remains strategically located to major centres such as San Paulo and Rio de Janeiro. Its island location also provides an ideal year-round climate with pleasant sea breezes, making it a great destination for a winter break.
Being the major island in an archipelago of 33 islets, Vitoria is well known for its distinctive landscape of mountainous rock formations, bays, channels, and rolling hillsides. In the city centre is where visitors will discover many of the historical treasures such as ancient churches, colonial buildings, and forts. The centre of Vitoria is also captivating, with its fresh seafood, live entertainment Congo music, and local craftwork. This cosmopolitan city is alive with top-notch restaurants, relaxing beaches, modern hotels, and a vibrant nightlife. If time allows, do not forget to check out a traditional soccer game.
Some local sites worth seeing include the Gothic 14th century Cathedral of Santa Maria, the square of Plaza de la Virgen Blance where many historic houses remain. The Diocesan Museum of Sacred Art of Alava and the 16th century Gothic-Renaissance Church of St. Michael the Archangel are also worth a look. For local festivals, do not miss the Andre Maria Zuriaren Jaiak, which is celebrated every August in honour of their patron saint and includes open-air events, activities, and music.