Take a Trip to the Heart of Modern Brazil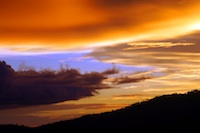 Famed for its sunsets and modern architecture, Brasilia is a fitting capital for the huge expanse that is Brazil, South America's largest country.
Built from nothing, in the mid 1950s, this fascinating city destination has been listed as a World Heritage site by UNESCO. It is located in the Central Highlands of Brazil and was designed in the shape of a huge aeroplane or bird.
Brasilia's cathedral is a wonder of modern architecture, with its 16 curved concrete panels thrusting up into the sky, providing a visual masterpiece. Many contemporary sculptures can be seen throughout the city, displayed out in the open air and created by some of the country's finest artists.
There are lakes and parks for relaxation and recreation, both in the city and very close by. Skating, cycling and jogging are popular pastimes in the parks, while it is possible to swim in Ecological Park's lake. There are plenty of restaurants, bars and cafés near to the waterside.
Though this is a relatively new city there are many cultural centres, which regularly hold national and international exhibitions, An important annual event is Brasilia's Festival de Cinema Brasiliero, which takes place in late October.
There is spectacular countryside surrounding this destination, including the Chapada dos Veadeiros, a national park with fascinating wildlife and stunning waterfalls.
Hotels provide a good range for all budgets and the wide range of cuisine on offer enables visitors to taste dishes from all over Brazil, along with many international restaurants.