Florianopolis Cheapest Fares
To search and book flights to Florianopolis in 2020 and 2021, please enter your requirements and click the search button above.
Florianopolis Oyster Festival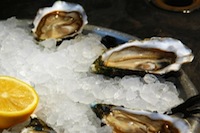 Florianopolis produces more than 90 per cent of Brazil's oysters. It highlights its love of oysters every year in an annual Oyster Festival.
The festival allows visitors from everywhere to sample some of the best oysters on the island of Florianopolis or in the world. The event also includes the best food and drink that Florianopolis has to offer and an oyster-eating contest. There is also a contest for cooking. Oyster dishes must be prepared according to one of three categories (academic, gourmet, or professional).
The Fenaostra, or Oyster Festival, even has its own royalty. The Fenaostra Queen and Princesses help promote the event throughout Brazil and to international tourists. That should not prove too trying a task. With Florianopolis' best oyster restaurants serving up their greatest oyster dishes, there is a lot to love about the festival.
The festivities go beyond oysters, however. The event also features more than 100 handicraft stalls, music shows, and a trade show. Guests can sample some oysters or learn about items such as the traditional bobbin lace that has itself become a huge draw at the festival. The bobbin lace is a key piece of cultural heritage left over from the Azoreans. It has become a staple of Florianopolis' art. The festival even has a scientific component for experts specialising in oyster farming and production, or anyone else who is interested.