Maceio Cheapest Fares
To search and book flights to Maceio in 2019 and 2020, please enter your requirements and click the search button above.
This fishing village is a nature lover's dream!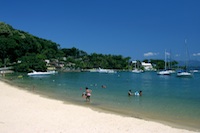 If you are considering Brazil for your next holiday, Maceio is worth a visit. This beautiful fishing village offers an ideal holiday for those wanting to kick back and relax. The area is quite compact, which is great for sightseeing.
Most sites worth a visit are not more than two kilometres from the local beach hotels. However, if you are visiting Maceio for an extended period of time, hire a car and enjoy some of the wonderful day trips. The most recommended is a trip to the nearby charming fishing village of Maragogi. It has been named as one of the little secrets of the area.
The town of Maceio is one of old cobble roads and massive palm trees with vendors selling fresh fish along the street. The atmosphere is filled with an infectious French quaintness. Local attractions include its natural beauty small cliffs and unique rock formations.
There are also many boat tours that take passengers out to the massive sandbar that is available only during low tide. Here visitors can take in a snorkel and witness some exotic fish or just relax and enjoy the view and there are many long, white sandy beaches around this magnificent area to take in the natural wonders of Maceio.
Maceio is the perfect destination for those seeking traditional Brazilian festivals. The top festivals are Maceio Fest, which is held each spring, Festa Junina, which is a Portuguese holiday in mid-winter, and Boi do Carnaval, which is a large percussion concert.