Recife is a Vibrant Tropical Paradise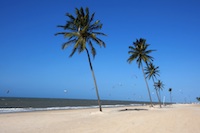 Recife is a city located in Northeast Brazil, famous for its rich history and beautiful, sandy beaches, with so much to discover and explore. Recife caters to be a great destination for anyone.
Travellers looking for a tropical paradise will love Recife because it has some of the best beaches in Brazil, most notably the Boa Viagem Beach, one of the world's best urban beaches with its white sands, endless walkways, and is a great place to get a tan. Street vendors selling souvenirs, food and drinks are aplenty, including vendors selling traditional Brazilian "Coconut Water"
Porto de Galinhas is a resort town very close to Recife, and has amazing beaches as well as a unique atmosphere. In Porto de Galinhas, there are areas to sit back and relax. Enjoy the amazing beaches, or take a buggy tour around the town. Porto de Galinhas is especially amazing during the New Years' celebrations, with lots of open-air parties going on.
Recife, and in fact the state of Pernambuco which Recife is the capital of, has a unique and vibrant culture, thanks to its unique history, which travellers can get a glimpse at by visiting Recife's museums. Visit the Ricardo Brennand Institute, which houses Brazilian and European artefacts, giving special attention to the era when the Dutch colonised Pernambuco. Also worth visiting is the Museum of the Northeastern Man, housing Northeast Brazilian folk arts and traditions, definitely worth a visit to understand the history of the traditions of Northeast Brazil.
Vibrant, cheerful and sunny and with lots to explore, Recife makes a fantastic destination for travellers.