The International Tourism Festival of the Iguacu Falls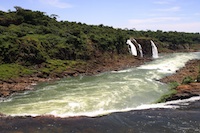 The International Tourism Festival of the Iguacu Falls is the latest event to be added to the schedule in Foz do Iguacu. The festival is held every year at the end of June and plays host to nearly 5000 professionals associated with the local tourism industry.
The festival usually takes place at the Rafain Palace Hotel & Convention Centre where travel agents, tour operators, hoteliers, tour guides, students, researchers, and government representatives, as well as those from the private sector, are all in attendance.
The International Tourism Festival of the Iguacu Falls is an event of international scope. Its aim is to encourage business development through the promotion and marketing of tourism products.
The festival is a huge success, as evidenced by the 2010 event during which the Business Roundtable managed to schedule 219 meetings, resulting in the coming together of 71 companies and 71 anchor bidders. This success lead to the festival being celebrated by both the public as well as critics.
It is because of this favourable outcome that ten new events have been organized and added to the festival programme: the Fair of Tourism, the International Forum on Tourism Iguacu, the Business Roundtable, the Exhibition of Sustainable Tourism, Meeting of the Consultative Council of Tourism of Parana and the Brazilian Federation of Convention & Visitors Bureau, the Festival of Community Based Tourism and the launch of the Seal by Post Falls.
For those with a passion for tourism, it is certainly an event worthy of attendance.