Shetland Islands Cheapest Fares
The lowest fare found to Shetland Islands (LSI) was £568 with Flybe. The fares shown here are the lowest flight prices to Shetland Islands obtained in actual searches by Just The Flight customers. To search and book flights to Shetland Islands in 2022, please enter your requirements and click the search button above.
Up Helly Aa Lights up the Shetland Islands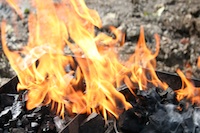 Scotland is a country that is full to bursting with folklore, heritage and traditional celebrations, and this is especially so in the Shetland Islands. One of the biggest highlights of the year on this rugged and beautiful archipelago is the thrilling fire festival of Up Helly Aa, which is held in late January every year.
Although this event is celebrated all over the Shetland Islands, the biggest and best processions can usually be found in the principal town of Lerwick. Fire celebrations have taken place here for over a hundred years, and these days the Lerwick Up Helly Aa is known as the largest fire festival in the whole of Europe.
The events of the festival itself are influenced significantly by Viking mythology, as is the case with a lot of Highland myth and culture. Islanders dress up in costumes that represent characters from Norse legends, and take part in a torch lit procession through the streets. Traditional songs are sung, and the climax of the event involves a huge replica galley being set alight and pushed out the sea. For the rest of the night there is dancing, performances and general celebrations.
Up Helly Aa is an amazing spectacle for visitors to the island, and should definitely not be missed when visiting Scotland in the winter season. With flights available to the island from Glasgow, Edinburgh and several other Scottish cities it is very easy to add this destination to a tour of the region, and get a real experience of Scottish history and tradition.