Kirkwall Cheapest Fares
To search and book flights to Kirkwall in 2022, please enter your requirements and click the search button above.
Orkney Island Folk Festival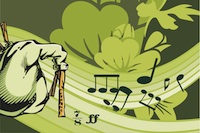 Around the end of May every year, an unusual number of violin cases and accordions can be seen passing through Kirkwall Airport on the Orkney Islands. When this happens, it is the signal that this is the week of the Orkney Islands Folk Festival, a major event in the Scottish folk music calendar and a great time to pay a visit to the area.
Folk music is a very important part of Scottish culture and heritage, and this is especially so on the islands. The festival attracts visitors from all over the world, who come to see the fantastic musicians, performers and bands that are featured, or just to drink in the atmosphere. The festival often includes ceilidhs and dances, concerts, rallies and many other events besides, so there will always be something exciting to see or do.
The Orkney Islands themselves are a wonderful place to visit at any time, so visiting them in combination with attending the Folk Festival is sure to be a great holiday. They have been awarded UNESCO World Heritage status due to the Neolithic structures that can be found there, and taking a tour of these is a very interesting way to spend a day. The islands also host Scotland's most northern whisky distillery, where aficionados may like to take a tour and sample the produce.
The best way to get to the Orkney Islands is via the airport at Kirkland, from which it is easy to get around the rest of the archipelago by road and sea. Flights are available to the island from Edinburgh, Glasgow, Inverness, Aberdeen and Sumburgh, and it is easy to get connections further afield from these cities.