Wick Cheapest Fares
To search and book flights to Wick in 2020 and 2021, please enter your requirements and click the search button above.
Wick Welcomes World Record Breakers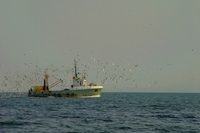 Once the busiest herring fishing port in Europe, the town of Wick has since played a key part in many world-record attempts, and recently became a world record-holder in its own right.
There are many reasons to visit the small town of Wick on the north-east coast of Scotland; it has a notable whisky distillery, a castle and a heritage museum and, for aficionados of Guinness World Records, this destination is a haven for both existing and new world-record attempts. Wick, an unassuming town in Caithness, was recently awarded the record for having the world's shortest street; Ebenezer Place is just 2.06 metres long.
Built in 1883, it contains just one address and one door; the front door of a bistro which is part of Mackays Hotel. The record-breaking street claimed the title from a street destination in the town of Bacup in Lancashire, which was a massive 5.2 metres long.
Just 16 miles north of Wick is the town of John O'Groats, the most northerly settlement in mainland Great Britain and the starting point for adventurers who wish to travel the 874 miles along the roads of Great Britain in order to reach Lands End in Cornwall. The route is the source of many Guinness World Records, and for those who find travelling by car or bicycle to be a little tame, they could always opt to travel by uni-cycle, skateboard or mechanical excavator. The officially recognised route for these world records uses the main road from John O'Groats and passes through Wick.