Durham Teesside Cheapest Fares
To search and book flights to Durham Teesside in 2021 and 2022, please enter your requirements and click the search button above.
Durham Proves Small can be Beautiful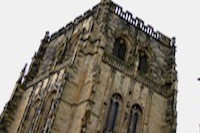 Durham may be one of the smallest cities in Great Britain, but it is one of the most historically significant destinations in the world, and both Durham Cathedral and Durham Castle recently celebrated their 25th anniversary of achieving World Heritage status.
The two sites were added to the UNESCO World Heritage list in 1986, a list that was created to protect worldwide sites deemed to have a special cultural or physical significance.
The 12th century cathedral in Durham is regarded as one Europe's finest examples of Norman architecture. Overlooking the River Wear, it is built on a peninsula of land that was created by a bend in the meandering river. Durham Castle sits on top of a hill opposite Durham Cathedral, and has been home to the University College since 1840, just eight years after the university was founded. The Norman Castle was built by William the Conqueror and is still a working building. It houses the college library and over 100 students who are lucky enough to eat their meals in the imposing Bishop Bek's Great Hall. In contrast to the 11th century heritage of the castle, it also houses the college's IT suite.
Visitors to this destination will benefit from a range of activities and events that have been arranged to mark the anniversary. A new website and a one-million-pound visitor centre will allow people to understand more about the area, and an exhibition of paintings, prints and photographs will show visitors how the city has changed over the last 300 years, whilst concerts and theatre events will bring history to life.