Celebrate Music on Tiree Island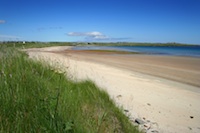 Tiree Island, Scotland, is one of the Inner Hebrides Islands and is one of the sunniest destinations in the British Isles.
Located due west of Oban, Tiree shines during the summer, when the heat is offset by the gentle winds blowing off the ocean. Every July, Tiree hosts the Tiree Music Festival.
One of the most affordable music festivals around, it nevertheless brings in headliners like Wolfstone and the MacDonald Brothers, along with newer and smaller bands trying to make it big in the music industry.
With several venues scattered around, you'll have plenty of elbow room with the other aficionados. This is a family-friendly music festival, with plenty of activities to keep children engaged. The children's Ceilidh is a favourite. Let your youngsters dance the afternoon away while you sip on some fine whiskey.
The days are filled with workshops, as well. One-on-ones with some of the featured musicians are a favourite, but there's much more to choose from, including information on bands, various types of music, and of course vendors selling everything from T-shirts and CDs to haggis and shepherd's pie.
For those who enjoy a rich variety of music, the Tiree Music Festival is the place to be. Celtic rock from Wolfstone, Tiree's own Skerryvore, and country singer Brian Hughes are all former or current stars who have graced the stages at the Tiree Festival.
Both Scottish and Irish artists from modern and traditional genres come together at this destination to create some of the best sounds you'll hear in a summer music festival.