Fly your way to eco-friendliness

With climate change being the hot topic of the moment (and for many years to come, no doubt), travellers might be wondering how they can help to fight the murky spectre of rising carbon emissions. Happily, there are a number of ways in which holidaymakers can minimise their emissions and do their bit for the environment.
Where to begin?
Firstly, how does travel affect the environment? Pretty much every form of petrol-powered motor travel - cars, buses, planes - releases emissions that contain carbon dioxide and other harmful gases.

These carbon emissions, if left unchecked, can build up in the planet's atmosphere and absorb more of the sun's rays than they should. This contributes towards global warming, where temperatures across the world rise and can result in higher sea levels and changes in rainfall patterns.

However, despite all the media attention currently focused on flights and their carbon emissions, research from a number of sources has indicated that aircraft account for a relatively small fraction of the UK's total carbon output.

In spite of this, holidaymakers should still attempt to be as green as possible - as every little counts.
Get planting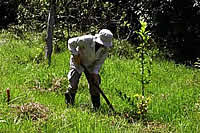 One way of reducing the harm caused to the planet by holiday flights is to make up for the amount of carbon you contribute through a carbon offsetting scheme. Through websites such as Treeflights, all you have to do is calculate how much carbon dioxide your flight will emit and pay for trees to be specially planted in order to counter your emissions.

The cost and the number of trees will vary depending on how long your flight is, but £10 could be enough to offset a journey between London and New York.

Of course, carbon offsetting doesn't necessarily have to be limited to flights. Websites such as Carbon Clear offer options for cars, homes and even babies' nappies!
Green airlines?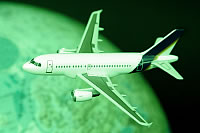 There's also the question of whether it's possible to board a flight that is in itself eco-friendly. Increasing numbers of airlines are waking up to the green issue and are implementing initiatives to help ease passengers' consciences.

In 2006, British Airways announced that it was looking into upgrading some of its fleet to more environmentally-friendly models. Spanish airline Iberia has also set out its green credentials with a scheme devised to draw passengers' attentions to the plight of protected and endangered species through paintings on newly-acquired aircraft.

Meanwhile, February 2008 saw Virgin Atlantic successfully complete a trial involving a Boeing 747 flying to Amsterdam from Heathrow Airport using renewable fuel made from babassu and coconut oil. President of the airline Sir Richard Branson said that the step heralded a "breakthrough" for the aviation sector - so flyers could perhaps find themselves on a truly eco-friendly flight at some point in the future.
Eco-holidays?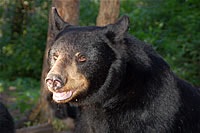 Meanwhile, why not try making the rest of your break as eco-friendly as possible?

In 2006, the World Travel Market (WTM) in London gave Ol Malo Lodge and Trust in Kenya an award for its ethical awareness and environmentally-friendly principles. The lodge is located in desert land and interacts with the local community to help minimise the effects of poverty and disease.

Or if you fancy a cooler break, you could look into a visit to Aspen, Colorado, as that destination won the WTM award of being the best of its kind as a result of developing a greener way of skiing.

To look at a few of the possible choices on offer, take a look at Responsible Travel, which lists the main eco-friendly tour operators and accommodations to be found across the globe. Notable examples include the Pinasca bed and breakfast in Piedmont, Italy and these self-catering apartments in Cyprus.

Those interested in contributing to eco-friendly projects might want to take a look at the Green Volunteers website which list volunteer opportunuties around the world for conservation, wildlife and environmental schemes. How about working with wild black bears at the Vince Shute Wildlife Sanctuary in Minnesota?

More 'out there' breaks can also be just as environmentally-friendly as staying in a green hotel. A number of the world's top experts on all matter eco-friendly recently revealed their favourite holidays to the Guardian. These included an exploration of Paradise Harbour on the Antarctic Peninsula, a full sail around the Caribbean and a stay in a remote village in South Africa.

Of course, once you actually get there, there's much you can do to leave as small a carbon footprint as possible. Simple measures such as switching off all lights when they're not in use, taking showers instead of baths, refraining from leaving appliances on standby and opting to walk, take a bus or cycle instead of getting a taxi to every single attraction and event can all help reduce your own personal level of emissions.

Another major way of being environmentally-friendly while on holiday is to opt for dishes created from food grown locally rather than that flown hundreds of miles to get to your plate. This, along with the other suggestions for saving energy and carbon, is a practice that you can translate back into your daily routine in the good old UK.
Get there before it's gone...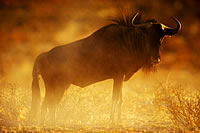 If you're desperate to take in some of the world's most spectacular sights before they fall foul of the shadow of climate change, there are a number of options to choose from. Take a flight to Canada and have a peek at the polar bears enjoying the icy conditions, or travel down to east Africa and marvel as over one million wildebeest migrate across the region.

More generally, it might be an idea to go skiing or mountain-trekking and contemplate the panoramic vista of snow-capped mountains on every side, or travel to remote islands and be quietly grateful that sea levels haven't started rising just yet.

And if you're wondering whether it can actually be green to fly to these places just to take in spectacles that might be threatened by rising greenhouse gases, Joanne O' Connor, writing in the Guardian, makes this point: "While those of us fortunate enough to be able to afford the luxury of foreign travel agonise over our carbon footprints, the livelihoods of people in developing countries, where tourism is often the backbone of the economy, are also hanging in the balance."