Middle East Airlines Flights and Routes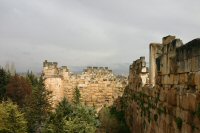 Middle East Airlines fly to Europe, the Middle East and the Gulf
Middle East Airlines (ME) has signed an agreement to join SkyTeam. The move to become part of this alliance will put the airline in a better position to compete, not just in terms of the Middle East, but also on routes to West Africa.
Middle East Airlines has been developing and improving its services through extensive restructuring, which includes renewing its fleet, rationalisation and increasing the number of routes it operates within the Middle East, West Africa and Europe.
Mohamad El-Houtm, MEA's Chairman and DG, explained that by joining SkyTeam, this relatively small airline would be able to offer its customers access to an extensive global network, covering Europe, Asia, Africa and the Americas. Another major benefit for passengers will be lounge reciprocity, not only at Rafic Hariri International Airport, but at over 45 Delta SkyClubs all over the world.
The Lebanese flag carrier is following the lead of another Middle East airline, Saudi Arabian Airlines and is part of SkyTeam's efforts to improve its presence within the Middle East. Other airlines set to join the alliance are Aerolineas Argentinas, Garuda Indonesia, China Eastern, China Airlines and Shanghai Airlines.
Middle East Airlines is a member of SkyTeam