Athens International (ATH) Airport Guide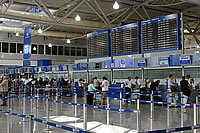 Athens International Airport is Greece's main gateway for international travel, with a wide range of services on offer and thousands of people visiting the facility every day.
Airlines that operate at the facility include British Airways, Air France, Qatar Airways, and Thai Airways.
Athens International Airport Amenities
Shopaholics out there have plenty to choose from at Athens International Airport, with much on offer on duty free, including chocolates, perfume, tobacco and Greek food.
Fashion fans will be able to purchase items from a wide selection of well-known outlets, including Accessorize, Burberry, Armani Jeans, Lacoste, Diesel, Nike, Swatch and Tie Rack.
As for electronics, travellers using the airport can take a look at Germanos, which offers IT and multimedia products among others, while Metropolis boasts a wide array of DVDs and music.
Korres Natural Products provides travellers with a choice of cosmetics and toiletries, while Newsstand Eleftheroudakis is a Greek and international bookstore also offering media publications from across the world.
Those on holidays with their children may want to keep the young ones entertained, so the Cartoon Store could be an option, showcasing toys and clothing as well as gifts featuring famous cartoon characters.
The Flowers' Club, meanwhile, sells flowers, bouquets and arrangements, with greeting cards and various other gifts on sale as well.
Gadget fans could be tempted by a trip to Triton, which supplies technologies such as MP3 players, travel games and personal accessories.
There are a number of big name eateries for holidaymakers to enjoy at Athens International Airport, including McDonald's and Illy Cafe.
People in need of a caffeine boost can look to A Cafe, Cafe Express or Kafenio for their fix, with the latter also offering draught beer.
Food Village may suit those who are looking for a wide choice of gastronomic options, providing Cypriot dishes as well as pizza and sandwiches, among other treats.
As for other services, a Post Office can be found at the airport, as can a business centre, a pharmacy, banks and travel agencies.
Terminals at Athens International
Athens International Airport is home to its Main Terminal Building as well as a Satellite Terminal.
Athens International Transport Links
Travellers can access Athens International Airport from the centre of the Greek capital or the Attica ports via public transport which runs 24 hours a day.
A total of six bus routes connect the airport with the greater Athens area and the port of Piraeus, with buses departing from the arrivals level, between exits 4 and 5.
Five regional bus services also operate at the facility, which leave passengers at the departures level and depart from the arrivals level, between exits 2 and 3.
Metro Line 3 connects to the airport if travellers want to take this option, while suburban rail connects the airport with Athens Central Railway Station and Piraeus.
Car rental services on offer at Athens International Airport include Avis, Europcar, Hertz and National Car Rental.