Ukraine Airlines Flights and Routes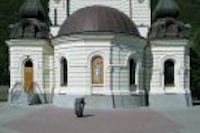 Ukraine Airlines fly to mainly European destinations but also has flights to Doha, Dubai and Kuwait
Ukraine Airlines was voted best national airline of 2010 in an annual 'Ukrainian Tourism as Viewed by The Ukrainian Press' poll. The survey, which was conducted by the Tourist Press Club of Ukraine Journalist Association and the Ukrainian National Tourist Office, saw Ukraine Airlines voted 'Best National Airline'.
Journalists representing print media, television and travel related internet sites from all over the Ukraine took part in the poll. Airlines were judged on their quality of customer service, geography of flights, pricing policies, how they go about starting new routes, how they encourage tourism by operating charter flights and how many charter flights are operated. The head of the Tourist Press Club of Ukraine Journalist Association, Igor Slisarenko, was not surprised at the outcome. He commented, "UIA is widely known, not only for its high quality of passenger service, but for its constant expansion of their routes."
UIA Corporate press secretary, Evgeniya Satskaya, hailed the award as a great honour, especially bearing in mind that the poll was conducted among highly competent experts in the tourist business. She added that she believed their assessment objectively reflected the current situation in the sphere of air transportation in the region.
Ukraine Airlines is not content to rest on its laurels following this award. The airline is in the midst of route expansion and is constantly striving to become bigger and better. New routes to destinations such as Tel Aviv and Geneva have been complemented by flights to more exotic destinations, such as Goa and Colombo.