Cairo International (CAI) Airport Guide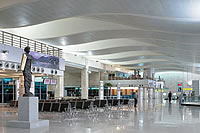 Cairo International Airport is located in the north-east of the Egyptian capital in the Heliopolis area and is 40km from the Giza Pyramids.
It can be accessed by going across the 6th October Bridge which can be accessed via Salah Salem road.
As for which airlines operate at the facility, Emirates, British Airways and Qatar Airways all fly from the airport.
Cairo International Airport Amenities
There are plenty of restaurants and cafes for holidaymakers to relax in or fill their hungry tummies up, with one of these being the Stereo Restaurant. It is a 1960s style eatery and offers gourmet food, while live music is played on the piano.
The Air Mall is home to a wide selection of places to grab a bite to eat, with establishments such as Segafredo, oriental restaurant Kenoz, Cielo and Tres Bon all located in the area.
Situated in Terminal 1's International Arrival Hall 3 is Cafe Ritazza, with gourmet sandwiches as well as dessert items on offer, including cakes and cookies. Coffee and fresh juices are also available here.
As for shopping, a Swatch store is located in Terminal 1, while over in Terminal 2 holidaymakers will find a Bijoux Terner outlet. Duty Free Shops are located in all international departure and arrival areas.
The MCM, Shiseido and Marco Polo brands can all be found in Terminal 3. The concessions contract for all T3 Duty Free Shops has been assigned to Egypt Air Duty Free.
A number of banks are located in T1 and T2, including National Bank of Egypt, Banque du Caire, Thomas Cook Bank and the Bank of Alexandria, while ATMs are also available to travellers at Cairo International Airport.
There is a selection of lounges around the airport where travellers can relax before they head off on their journey. The VIP Lounge and the English Lounge provide comfortable surroundings, while the Italian Lounge offers some cuisine from the European country.
Terminals at Cairo International
There are a total of three terminals at Cairo International Airport, all offering a variety of services.
Cairo International Transport Links
The Shuttle Bus service takes travellers both from and to the airport, heading to destinations such as Nasr-City, Giza, downtown Cairo and Haram, which is the Pyramids area.
Airport taxi services are available all the time and run on a flat fee basis, with the official vehicles being predominantly black and white. Travellers should note, however, that Alexandria taxis are black and orange, while seven-seated Peugeot taxis vary in their colour, although they will feature an emblem and number painted on the driver's door.
There are some public air-conditioned buses that run from T1 which stop at a number of destinations, including Mohandesin and Pyramids Road in Giza.
A total of 19 different companies offer limousine services and passengers using the service should ask for valet assistance once they are outside the terminal.
For those looking to leave their car at the airport, in the T1 building there is a total of 86,395 sq metres of parking space with ten parking lots. There are four parking lots in the T2 building, with a 4,000 car capacity.