Royal Jordanian Flights and Routes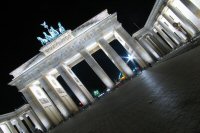 Royal Jordanian fly to over 50 destinations in the Middle East, Europe, North America the Far East and Asia and is the national carrier of Jordan
Following an 11-year hiatus, Royal Jordanian is to restart flights to Berlin. The decision was taken as a result of demands from business passengers for additional flights to reflect the current upswing in Jordan's commercial and export sectors. It was this, coupled with an active resurgence in the tourist trade that led to the timing of the introduction of the service.
Royal Jordanian is eager to move its German operation to Berlin's new Brandenburg Airport, as soon as it opens. With plans for Air Berlin to join the 'oneworld' alliance, just prior to the opening of the new airport, both airlines will be able to share resources, which will include an underground railway terminal, direct motorway access, improved flight connections and state of the art facilities.
The resumption of services brings the Jordanian flag carrier's routes to Germany to three; the airline has been operating routes into Frankfurt since 1970 and Munich since 2001. The latest plan is to fly Airbus A320's between Amman and Berlin, three times a week. The carrier already handles 77% of all traffic between Germany and Jordan and Berlin is the 59th route.
Royal Jordanian also plans to open a service to Lagos, in Nigeria; however, visa issues have held up the establishment of what would be its 60th route.
Though the airline has gone through something of a difficult period, due to the political unrest in the Middle East, its CEO is confident that it would recoup any losses, thanks to a buoyant summer tourist trade.
Royal Jordanian is a member of OneWorld