Dubai International (DXB) Airport Guide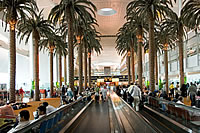 Situated 2.5 miles south-east of Dubai, the city's airport comprises three terminal buildings and is served by carriers including Air France, Caspian Airlines and Emirates.
Most major airlines come into Terminal 1, with the others mainly used by carriers coming in from Iran and those operating chartered flights.
All bags travelling though the airport are tagged using a Baggage Reconciliation System, which tracks each piece of luggage from check-in until it is loaded on to the plane. Suitcases pass through several barcode scanners and information is stored, meaning the chances of passengers losing their bags is extremely slim.
Dubai International Airport Amenities
Passengers travelling through Dubai International Airport will find a wide range of amenities on offer and will not be disappointed, particularly when it comes to shopping.
Dubai Duty Free outlets can be found throughout all terminals and those wishing to purchase goods in bulk can also be accommodated.
The airport's duty free stores have scooped more than 70 international awards since 1983 and travellers will find a good selection of quality merchandise on offer, including jewellery, luxury goods, designer clothing, cosmetics, sports equipment and children's toys.
Passengers are also well catered for when it comes to dining and with more than 25 cafes and restaurants to choose from, there is something on offer to suit all tastes and budgets.
There is a large food court, where passengers will find several eateries, including McDonalds, Round Table Pizza and Le Matin Francais.
Travellers looking for something a little different can head to the Bistro, which serves Lebanese food or Tansu Kitchen, which serves up a wide range of Chinese and Mongolian cuisine.
The Irish Village, situated close to gate 123, offers traditional fare from the Emerald Isle and is ideal for families with young children.
Business travellers will find full secretarial and support facilities on offer at the airport's Connect centre. There are also several meeting rooms and workstations available for use.
Meanwhile, passengers with time to spare can head to the G-Force health club, where access to the swimming pool, jacuzzi and gymnasium is available on an hourly basis. Those looking to indulge in a little pampering on their journey can book also book a massage appointment here.
There are several prayer rooms throughout the airport complex, as well a women's lounge and children's play area, complete with slides and a climbing frame.
Passengers requiring internet access will find several kiosks dotted throughout the airport.
Terminals at Dubai International
Dubai International Airport is home to three terminals, which are linked by a regular shuttle service. Travellers are advised to allow at least ten minutes for transferring between terminals.
Dubai International Transport Links
Passengers arriving at Dubai International Airport should have no difficulty making their way into the city centre.
Several major car hire companies are in operation here, including Budget, Europcar, Hertz and National Car Rental.
Public transport is extremely efficient in Dubai and taxis are available around the clock from the airport's arrivals hall.
There are also two bus stations at the hub, with services departing regularly to the city centre.
Special airport buses were recently introduced which have large baggage holds and air conditioning.
These buses serve the most popular tourist areas and stop within walking distance of more than 80 of Dubai's most popular hotels and are an excellent option for those looking for a cheap way to reach the city centre.