East Midlands Cheapest Fares
The lowest fare found to East Midlands (EMA) was £125 with Flybe. The fares shown here are the lowest flight prices to East Midlands obtained in actual searches by Just The Flight customers. To search and book flights to East Midlands in 2022 and 2023, please enter your requirements and click the search button above.
East Midlands Is Home to the Robin Hood Festival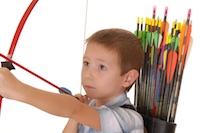 Building on the legends and folklore of the area, the Robin Hood Festival, located near the village of Edinstowe in North Nottinghamshire, features the best in mediaeval entertainment, games, and food. It is a destination that everyone may enjoy. Every August, the whole family can step back in time and experience first-hand what life was like in the exciting mediaeval era. The Robin Hood festival celebrates the mythology surrounding Robin Hood, the man who defied the Sheriff of Nottingham by robbing from the rich and giving to the poor. The festival recreates many of the activities that Robin Hood was famous for, including archery, jousting, and re-enactments of historical battles. Visitors can test their skills with the longbow, witness knights in the midst of battle, or watch one of the many shows in the beautiful open-air theatre. The festival features many well-known characters, such as Robin Hood, Little John, and Maid Marion, with a large and colourful cast of minstrels, jokers and knights. The event takes place in famous Sherwood Forest, with its enormous trees and expansive green areas. The festival features food, dance and celebration for the whole family, as well as refreshments and beer tents. Sherwood forest was once a royal hunting forest although today it has become a natural reserve of great ecological and historical importance. Visitors flock to the forest from all over England and beyond making the East Midlands a premier tourist destination, with many traditional events that build on local folklore and cultural heritage.