Music Festivals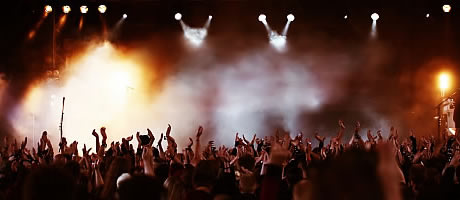 If the idea of getting coated in mud and rained on at a British festival this summer does not sound appealing, it could be time to jet abroad and see your favourite band in the sun. Not only are many European festivals cheaper than British events, but the cost of food and drink is often a fraction of the price, meaning you can save money even with the cost of a flight. And then there's the weather - did we mention the weather?
Benicassim, Spain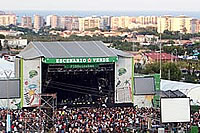 One of the biggest and best international music festivals, Benicassim (July 16-19) has become increasingly popular with Brits in recent years - due in part to the availability of cheap flights between the UK and Spain.

Situated on Spain's eastern coast, Benicassim is easily accessible, with Valencia Airport located just 55 minutes away. Low-cost airlines offering flights to Valencia from the UK include Clickair and easyJet, which offers services from Bristol, Edinburgh Airport and Liverpool Airport.

Every year the festival plays host to more than 100 artists performing across four stages, bringing together the best in indie rock, pop and electronic music.

What's more, the festival camp is just a few steps away from the beach, meaning you can top up your tan in between sets.

The festival was founded in 1995 and celebrates its 15th birthday this year with a stellar line-up. Headline acts include Oasis, Kings of Leon, Franz Ferdinand and The Killers. Others set to perform over the four days include Fangoria, Glasvegas, Maximo Park, Elbow, Lily Allen, Late of the Pier and Pete Doherty.

As well as music, the festival also focuses on art, film, fashion, theatre and dance.

The beaches of Benicassim are transformed into exhibition spaces, with hundreds of artists showcasing their work over the four days.

Playa del Torreon will host the dance part of Benicassim which, according to festival organisers, acts as "a platform for young dancers and choreographers, as well as established and prestigious luminaries". Festival-goers can expect to see everything from modern dance to traditional flamenco and fusion.

According to the Guardian, it is "harder to think of a better dot on the map" for those who simply want to soak up some sunshine and watch their favourite bands perform - without the threat of getting caught in torrential downpour and waking up in a canvas quagmire.
Rock Werchter, Belgium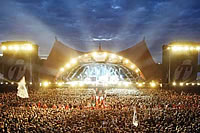 Established in 1975, Rock Werchter is Belgium's biggest festival and attracts some of the world's most famous bands.

The festival park is located in the province of Flemish Brabant, around 15 kilometres from Leuven and 30 kilometres from Brussels.

This year's event takes place from July 2nd to 5th and features artists including The Prodigy, Placebo, Fleet Foxes, Oasis and Eagles of Death Metal.

Festival favourites Kings of Leon will also be gracing the stage, along with the Black Eyed Peas, Katy Perry, Lady Gaga, The Killers, Coldplay and Metallica.
Exit Festival, Serbia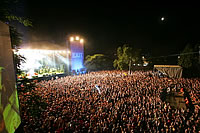 For something a little different, you could consider jetting off to this year's Exit Festival in Serbia.

It's about as far away from Glastonbury as you can get, and with tickets costing around half the price, there has never been a better excuse to jet to Belgrade.

The festival park is around 70 kilometres away from the Serbian capital and airlines offering services between Belgrade and the UK include British Airways and Jat.

The 2009 line-up includes Arctic Monkeys, Moby, Patti Smith, Korn and festival regular Lily Allen.

Over in the Dance Arena, festival-goers can expect to see acts including Carl Cox, Green Velvet, Eric Prydz and Richie Hawtin.
Dour Festival, Belgium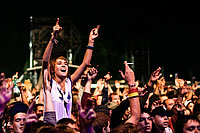 The people of Belgium clearly love a good festival and if Rock Werchter isn't your scene, then maybe Dour will be.

Dour features less mainstream acts that other European festivals and is one of the few that Lily Allen will not be making an appearance at.

Instead, those attending the festival, which takes place from July 16th to 19th, can expect to see acts including Tyro, Animal Collective, Pet Shop Boys and Venetian Snares.

Four-day tickets start from just €85 and with cheap flights between the UK and Belgium, Dour is one of Europe's most affordable music festivals.
Electric Picnic, Ireland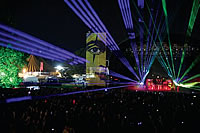 OK, so it's not on the continent and you may need your wellington boots, but Electric Picnic was recently named by the Times as one of Europe's best music festivals and if the prospect of a light shower doesn't phase you, then this could be the one for you.

"This regularly has one of strongest and interesting sets of artists to compete with and usually better the offerings of British festivals," the newspaper noted.

With a capacity of just 35,000, Electric Picnic is more intimate than other European events, yet still manages to attract some of the biggest talent.

The festival is held at Stradbury Hall in County Laois from September 4th to 6th and this year's line-up includes 2 Many DJs, Basement Jaxx, MGMT, Klaxons, The Wailers and Zero 7.

Festival-goers can expect plenty of laughs in the comedy tent, as well as art exhibitions and creative workshops.

There is also a body and soul healing area, where professional therapists are on hand to help you relax through massages, yoga, reflexology, reiki and accupressure.

Kids are also well catered for at Electric Picnic, with a special area for under-12s and a chill-out space for parents.