The world's best romantic destinations

With Valentine's Day a few weeks away, there are likely to be many considering combining the most romantic day of the year with an overseas break. The world is dotted with destinations guaranteed to make February 14th a day to remember for loved ones - but which ones are the locations for you?
A holiday for everyone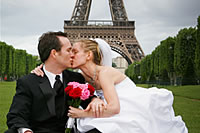 The world is a big place - meaning there is sure to be a city or country for every category of lover, whether you're the dreamy, sentimental kind or the hot-headed, passionate type. The most traditional and popular places tend to have a bit of everything, so they may be worth a look first.

Of course, Paris is the destination is the most people think of when considering a romantic break. A survey conducted by Rosetta Stone in 2006 found that Britons believe the French capital to be the most romantic city in Europe - and with good reason. Whether you're sharing a spectacular view from the Eiffel Tower, taking a romantic cruise down the Seine or dining by candlelight in a top restaurant, it is likely a holiday in Paris will create some of the most romantic memories possible for you and your other half.

The Association of Independent Tour Operators (AITO) appears to agree. "You still have very much the old favourites, such as Paris ... and for most people they are very much at the top of the list," a spokesperson says.

Another popular lovers' destination is Venice - which was voted into second place in Rosetta Stone's poll. The stereotypical activity for couples in the Italian city is taking a ride on one of its gondolas - but there's much more to Venice than its canals. Various masked balls, old palaces and exquisite cuisine are just a few of the other things that can make the city the ultimate location for a Valentine's getaway.

Elsewhere in Italy, Rome has much to offer loved-up visitors, with its breathtaking architecture, wandering musicians, rose-sellers, picturesque gardens and romantic little restaurants tucked away down winding lanes. Just bear in mind that it might be an idea to stay away from the tourist crowds for this particular holiday - try exploring the smaller streets and see if you can find any pleasant surprises.
Off the beaten track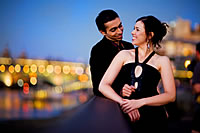 If you know your loved one will prefer a more offbeat destination, there are plenty of alternatives to the tried-and-tested options. According to the AITO, cities such as Monaco, Barcelona and even Reykjavik have risen in popularity as romantic holiday locations in recent years.

"People want to do something a little bit different - they are so well travelled at this point. They have done a lot of the major cities and now they want something a bit different," it explains. "Marrakech is also doing quite well."

So what do these cities have to offer? Monaco is ideally situated close to the French and Italian Rivieras and boasts stunning scenery and a number of beautiful gardens, as well as night-time attractions such as opera and ballet performances and some excellent restaurants serving the best of the region's cuisine. It also helps that the principality enjoys a Mediterranean climate, so a February break is likely to bring temperatures of around 16 degrees C - pleasant compared with the weather back in the UK.

Meanwhile, while Barcelona is something of a popular year-round destination, many people are unlikely to associate it with romance. However, look closely and you'll find a wealth of attractions for couples. The city is home to a number of boutique hotels that are perfect for those marking Valentine's Day, as well as cava bars, fine restaurants and the potential for numerous romantic walks along the beach.

Reykjavik is, again, not a typically romantic location. But its immensely spectacular landscapes, intriguing nightlife and fantastic spa facilities mean that the Icelandic capital could be ideal for those looking to avoid the crowds this February.

Marrakech, on the other hand, is always bustling, but may provide an equally quirky Valentine's holiday with its beautiful buildings, romantic accommodation in the form of riads (homes converted into small hotels) and traditional Moroccan restaurants complete with entertainment such as live music and belly dancing.
Out of the city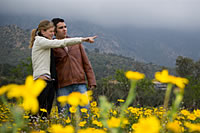 If your idea of romance is getting as far away from crowds as possible, there are even more options available to you. You could stay in the UK and make use of domestic flights to explore the wildly romantic landscapes of the Lake District, Scottish highlands or the Yorkshire moors, the setting of Wuthering Heights.

Further afield, Tuscany is home to plenty of tucked-away holiday homes ideal for those seeking a bit of seclusion, while Croatia is less traditional but surprisingly beautiful, particularly along the Dalmatian Coast, where you'll find islands home to hidden beaches and gorgeous views.

If you have a bit longer than a weekend to celebrate Valentine's Day, why not head even further out and sample the delights of the Whitsunday Islands off the coast of Queensland, Australia? Golden beaches, sparkling seas, lush greenery and, of course, the Great Barrier Reef provide enough sights and opportunities for romantic walks and activities for the perfect getaway.
Getting organised
Ideally, you'll have started thinking about your Valentine's getaway before Christmas, but the AITO notes that this is not necessarily compulsory. "It is always a good time to book and you can always find a deal," it explains.

However, more and more people are now going away for a Valentine's break than ever before, meaning you might have to do a bit of creative thinking - such as considering one of the offbeat destinations above - to bag the perfect romantic holiday if you're booking now.

"[The number of people going away for Valentine's Day] is increasing year on year. People tend to have more of a disposable income nowadays and it's just another holiday they want to add on," the AITO's spokesperson comments.