Domestic flight bliss

Holidaymakers are increasingly setting their sights on travel within the UK, whether it's for eco-friendly reasons or as a result of a desire to see more of their home region. A significant number of carriers now offer a comprehensive schedule of flights between domestic destinations - and these options are continuing to expand.
Why the UK?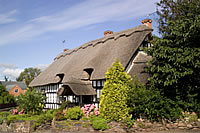 The UK has much to offer in the way of interesting holiday destinations, whether you're after a weekend city break, a countryside getaway, a beach holiday or an outdoor adventure. The fact that locations encompassing these holidaysare pretty much on travellers' doorsteps also means that trips are likely to be more environmentally-friendly than those to destinations further afield.

One other factor likely to play an important part in the decision to stay at home during the holidays is the relative lack of "hassle" compared with flying abroad, according to Jon Boston of the Holiday and Home Parks Association.

"The fact that many families don't opt for [overseas breaks] has a lot to do with the hassle factor. They don't want their suitcase ending up in Jamaica or to wait in endless queues and have to go through endless security checks," he comments, adding: "People want a more relaxing break and they're more likely to get that in this country than on a low-cost jaunt overseas."

It's easy to forget that there are four distinct countries in the UK - England, Scotland, Northern Ireland and Wales - in addition to neighbouring Ireland. All offer their own unique holiday experience because of their differing cultures and histories, so why not step over the border or the Irish Sea and have a break with a difference?
Domestic flights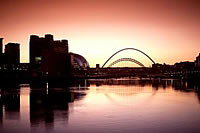 So what flights are on offer to those thinking of holidaying in the UK? Two of the biggest providers of domestic services are British Airways and bmi.

As you might expect, British Airways lays on flights to many of the UK's airports. Travellers flying from London and elsewhere could catch a flight to Manchester and experience the city's unique musical heritage, excellent shopping and world-famous events, or perhaps fly to Newcastle for its beautiful architecture, nightlife and waterfront attractions.

Of course, for non-Londoners a visit to the capital can be a treat, with its plethora of museums, shows, galleries, bars and festivals, as well as a cosmopolitan atmosphere that means travellers can experience a variety of cultures and cuisines in one place.

Further north, British Airways also offers flights to Scottish cities such as Glasgow, Edinburgh and Aberdeen, each possessing its own distinct identity, events and attractions. You could also catch a connecting local flight to the Highlands and enjoy the area's spectacular scenery and castles.

For those looking to head to Ireland, British Airways has an agreement in place with Irish carrier Aer Lingus, which means that holidaymakers travelling from one of the London airports can catch a direct flight to the likes of Dublin, Shannon and Cork. Dublin is the most popular destination for those flying to Ireland and offers much in the way of entertainment, culture and history to provide the ultimate city break location.

Other destinations served by British Airways in the UK include Newquay, the Isle of Man, Inverness, Stornoway, Londonderry and Sumbergh, among others.

Meanwhile, bmi offers flights to a number of the same locations as British Airways, as well as places such as Belfast, Birmingham, Durham Tees Valley, Jersey and Leeds-Bradford. Durham is one of England's best historical destinations and boasts hundreds of listed buildings, while Belfast is the place to be for those less than keen on the overtly touristy atmosphere of other UK cities.
To the beach!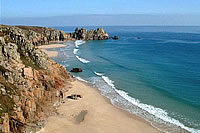 British summers are not always the best, but when they sizzle we decamp to the nearest beach in our hundreds. Forecasts of good weather for the last two weeks of August this year led Elliott Frisby of VisitBritain to predict that a fifth of Britons would take a holiday in the UK during this period.

"You only have to look at when we do get nice hot weather, people do flock to the beaches and to the seaside," he commented, going on to add that travellers were also expected to head out to the countryside and visit locations such as Newquay to indulge in some watersports.
The right moment
So when is the best time to go holidaying in the UK? The unpredictability of Britain's weather means that it is not always possible to simply flock to the beach in the summer - which has prompted city destinations to offer more and more attractions that are open year-round.

If you're looking for an ultra-cheap deal, however, it might be an idea to head out while others are less likely to do so, according to one expert.

"You've got the peak weeks over Christmas and new year, and then if you look in the brochures for January, it's probably one of the cheapest weeks of the year to go on holiday," says Frances Tuke of the Association of British Travel Agents.

She adds: "People can travel when it's a slow time for holidays and really clean up."
The overseas connection
Of course, domestic flights are not just useful for those holidaying in the UK. They can be particularly handy for those who do not live near a major air hub and are looking to travel to an overseas destination. The UK's regional airports are proving to be increasingly indispensable when it comes to offering links to the likes of Heathrow and Edinburgh airports for onward travel.

"Domestic flights offer passengers a range of benefits that include enabling passengers to catch connecting flights to other parts of the world. For example, [a passenger] can fly from Edinburgh to Heathrow and onto Singapore," a spokesperson for British Airways explains.