Fly and shop for Christmas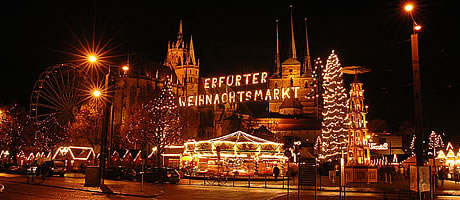 Like it or not, it's that time of year when people all over the world must turn their attentions to one of the biggest days of the calendar - Christmas. But instead of contending with the same old crowds in the same old high streets in the annual jostle for the best presents, why not take the opportunity to combine your festive shopping with a fun trip overseas?
Christmas shopping - the old-fashioned way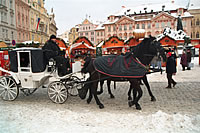 One of the most popular ways of bringing together a holiday and Christmas shopping is to make the short hop across to the continent and visit a festive market or two. Europe is famous for the bustling Christmas markets that spring up towards the end of every year to offer a welcome alternative to big brand shopping.

These markets are not only perfect for finding unique gifts such as handmade toys, exquisite chocolates and European art - they're also a fantastic way of tasting some of the best festive food around and getting to know the locals. Many markets also put on performances and shows to offer respite from browsing for goods - meaning that there is always something for all the family.

"It's as much for the cultural experience as for the shopping. They do very, very traditional Christmases," explains Sean Tipton, spokesperson for the Association of British Travel Agents (ABTA). "We probably haven't had Christmases like that since the 19th century."
Go Deutsch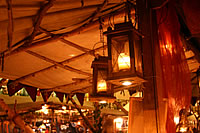 Germany is particularly well-known for its mesmerising markets - the country plays host to no fewer than a staggering 2,500 every year. If you're heading to north Germany, Hamburg offers a number of markets in each of its city squares, with the most impressive located opposite the town hall and seemingly staffed by performers straight out of a circus.

Heading south, the Christkindlesmarkt in Hauptmarkt Square in Nuremberg, open between November 30th and December 23rd, has a distinctly medieval flavour and includes a special children's market complete with nativity-themed activities.

Elsewhere, one of the oldest Christmas markets in Germany can be found in the form of the Striezelmarkt in Dresden in the east. This boasts a magnificent Christmas pyramid and various associated festivals and parades between November 28th and December 24th.

Meanwhile, Cologne in the west of the country has six markets worthy of a close look by British shoppers, including the fairytale-themed Rudolfplatz market and a unique floating market onboard a Koln-Dusseldorf Rhine cruise ship.
Elsewhere in Europe...
Of course, if you intend to travel to other European countries, there's no shortage of options. Vienna in Austria is home to the traditional Advent Market between November 17th and Christmas Eve, which entices shoppers with the rather delicious smells of candied fruits, gingerbread and roast chestnuts and offers intriguing kids' attractions such as a storytelling tree.

A festive market also sets up shop every year in the old town district of Krakow, Poland, while the Tivoli Christmas Market in Copenhagen is the biggest of its kind in Denmark and is a joy to visit as much for its scenic surroundings in Tivoli Gardens as its dozens of stalls and wide-ranging entertainment.
In the city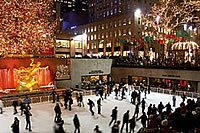 Of course, quaint European markets aren't for everyone - particularly those who need to fulfil particularly demanding Christmas wish lists. If bright lights and skyscraping steel and glass structures are more your thing, New York is perhaps the place for you.

"In terms of Christmas shopping, New York is still the most popular," says ABTA's Mr Tipton. "Every year we see a surge in business, particularly in November, of people travelling to New York. It's more and more the case ... this year because the pound has hit the magic $2 barrier."

He adds: "Quite apart from the exchange rate being very healthy at the moment, America is considerably cheaper than the UK in terms of going shopping, particularly for electrical goods and clothes."

As well as visiting massive department stores like Bloomingdale's, Macy's and Saks Fifth Avenue, you could also make the most of New York by treating loved ones (or yourself) to luxury jewellery or clothing from exclusive stores such as Nicole Miller and Lalique, or by picking up an edible delicacy or two at the Grand Central Market.

Elsewhere in the Big Apple, you could visit the Rockefeller Center and catch the lighting of its magnificent tree in late November, or go ice skating on its special festive rink when you fancy an exhilarating experience after a hard day's shopping.

Other popular shopping cities include Paris for fashion and art, Dubai for luxury goods and a pleasant dose of sunshine, Tokyo for the very latest in gaming, gadgets and electronics, Milan for beautiful footwear, San Francisco for more eclectic gifts and Los Angeles for the intriguing combination of designer boutiques and celebrity-spotting.
Into the exotic
If the prospect of wandering around huge cities with your arms full of shopping bags still doesn't capture your attention, you could go for something altogether different. Why not head to Morocco and browse the markets (also known as souks) of Marrakech and Agadir, or perhaps seek out some gems in the bazaars of Istanbul? While they're not exactly traditional Christmas shopping destinations, you could come away with some spectacular gifts, as well as the feeling of having just had a well-earned break.

Of course, if you want to go abroad for some festive fun, it's probably worth planning well ahead and looking into it now. "The industry will be very busy in the lead up to Christmas," Mr Tipton comments. "November is very popular." If you feel it's too late for this year, or if perhaps you want to save up a bit more cash to splash around abroad, you could always well and truly beat the crowds by looking ahead to next year.