Away with the stars

Ever secretly thought that you were destined for the celebrity life but some cruel twist of fate has prevented you from taking your place among today's most talked about stars? The next best thing to being a celebrity is to be near one, but instead of lurking around the Big Brother house in the middle of the night you might benefit more from exotic, out-of-the-way getaways in locations favoured by some of the world's biggest names...
The sun and the stars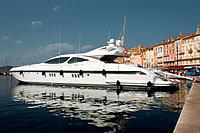 Like most people, celebrities are fond of holidays where they do not have to do much apart from bask in the sun. St Tropez in France is a place that seems to be permanently in fashion - mostly because of the big names that frequent it. Recent visitors to this stylish resort include Beyonce, Paris Hilton, Bono and the Beckhams, with Brigitte Bardot being one of the first stars to grace this sun-drenched stretch of the French Riviera back in the 1950s.

If you're looking to get on a plane to St Tropez, the easiest way is probably to catch a flight to Marseille and make your way to the resort via a hired car or one of the frequent shuttle bus services. You could also fly to Toulon or Nice, which are located close by, but travellers generally choose to go to Marseille as it offers better flight options and a good public transportation network to help you get to St Tropez.

Elsewhere, another celebrity holiday hotspot seems to be Lake Como in Italy, where ex-ER actor George Clooney owns a villa and other superstars - including the likes of Matt Damon and Katie Holmes - regularly visit during their annual getaways. There are lots of little villages to explore on the lake's shoreline, with activities such as mountain biking and kayaking also on hand nearby. The easiest way to get to the location is to fly to Milan and take a train, taxi or rental car to Lake Como, which is about 25 miles away.

The Caribbean is one popular sunspot that attracts its fair share of big names. The Beckhams are known to holiday in Barbados from time to time, while St Barts has previously been graced with the presence of supermodel Kate Moss. Brad Pitt and Angelina Jolie have also enjoyed a family holiday with the kids at Caneel Bay on the island of St John.
Now for something a little different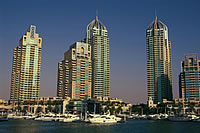 So what about the more out-of-the-way hotspots that celebrities seem to flock to? Up first is Namibia, which is not a particularly well-known place for holiday frolics but has captured much attention since Brad and Angelina - who have also visited the likes of Mexico and Cambodia - had their first child together in the country.

Namibia is perhaps more attractive to so-called eco-tourists than your average British family, but nevertheless offers a unique experience for most travellers in search of something different, with swathes of deserts and plains providing spectacular views and historic townships serving up culture by the bucketful.

Dubai is another top destination that has seen visits by the likes of Brangelina, Robbie Williams, the Beckhams and Pamela Anderson. While it's not exactly out of the way, it is one of those destinations that is growing in popularity but has not quite reached its zenith yet - unlike the Costa del Sol with its saturated beaches - meaning it's probably possible to go on holiday there and not bump into your next-door neighbour.

The Middle Eastern city boasts white sandy beaches, plenty of sunshine and some of the best shopping to be found anywhere. It is also home to the world's tallest building (which isn't even finished yet) and a number of events and attractions to suit all members of the family.
Fictional frolics
If the idea of sharing a beach with a clutch of A-list celebrities doesn't appeal, why not head for those locations that you probably saw in a film or read about in a book and wished you could visit? According to the Association of British Travel Agents, countries featured in big blockbuster films tend to see a surge in tourism as cinemagoers swap their popcorn-covered seats for a berth on a plane.

"Every time we have a big blockbuster, or a very successful movie, there is always a rather large boost to the countries concerned. In the tourist industry, it always happens," says spokesperson Sean Tipton, who gave the example of New Zealand and its newfound popularity following the release of the Lord of the Rings film trilogy.

"It is a combination of glamour and that want-to-go factor that comes after a successful movie," he added. Indeed, with exotic and far-flung locations such as Captain Corelli's Mandolin's Kefalonia, Lost In Translation's Tokyo and James Bond's Monaco, Cuba and Egypt all laying out their attractions to avid film fans, this is perhaps not surprising.

For the bookworms among us, the printed page does much to tempt readers away to a break in an unknown country. Ernest Hemingway was something of a fan of Pamplona and its famous bull-runs, while The Alchemist may well have helped tourism in Andalucia and Tangier.

Don't forget the sizzling Italy presented in The Talented Mr Ripley, James Joyce's Dublin and Armistead Maupin's buzzing San Francisco in his bestselling Tales of the City series, as well as JM Coetzee's South Africa and the bustling New York of the original Sex And The City novel.
What are you waiting for?
With the current bad weather plaguing the UK, it might be a good idea to get away on your travels now and experience the best that the rest of the world has to offer. Even if you don't end up sharing cocktails with America's biggest names in an Italian bar, you could experience the celebrity lifestyle for yourself and really know what it's like to be able to get away from the paparazzi - or dull day job - and relax on a faraway beach or two.