Cool Destinations

Forget about New York and Dubai - the coolest, sexiest place on the planet is the Caribbean coast of Mexico, where the tequila runs on tap and telephones are strictly for emergencies - or so we're told.
Enjoy a cool and sexy getaway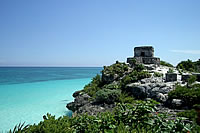 If it's cheap and cheerful fun in the sun you're after, then Spain is your destination. Looking to woo your other half with a romantic weekend away? Try Paris. Hoping to impress them, but not that much? Consider Dublin.

However, if you want to live it up with the coolest people on the planet, there's one place to go and that's the Caribbean coast of Mexico.

After six years of trawling the world's most luxurious hotels and visiting more than 100 countries, the good people at Escapism Travel Magazine have finally come to the conclusion that there is indeed paradise here on earth. The publication has officially decided that a trip to the Azulik retreat near Talum, Mexico, makes for the "coolest, sexiest holiday on the planet".

So, if the credit crunch hasn't gobbled you up yet, it could be time to grab your sombrero and treat yourself to a fortnight in heaven.
Azulik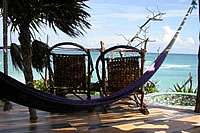 Situated near the legendary Temples of Telum, the chic retreat was scored in terms of romantic ambience, authenticity and integration with nature, among other things.

According to the magazine, Azulik, with its heart-shaped tables and cosy cabanas, offers holidaymakers the "most blissed out, most intimate, most timeless and most paradisiacal experience anywhere".

Nigel Browning, publisher of Escapism, said Brits will not find a more romantic or sensual place to stay.

"Azulik is the ideal place to bring out your romantic inner-soul. It's eco-chic and situated on a wildly beautiful, virginal coastline," he said.

"Attention to detail has been considered in every design aspect employed at the hideaway: there are heart-shaped tables, billowing white cotton day-beds, isolated cabanas and outdoor bath-tubs where lovers can soak whilst watching the sun go down. Azulik successfully mixes tropical, jungle chic with a touch of authentic, Mayan spiritualism."

Guests can take part in "cosmic love" ceremonies presided over by Mayan shaman Daniel Pool Pech and enjoy raindrop therapy and spa treatments, which include massages using melted, locally grown chocolate.

Mr Pool Pech - yes, that really is his name - also specialises in healing touch massages, with plenty of ceremonial chanting thrown in for good measure.

"He credits ancient Mayan spirits that use him as a conduit to perform such spiritual ceremonies. And he truly cares about his clients - he trekked into the jungle to search for a plant he needed to complete a ceremony," the magazine noted.
And the accommodation isn't bad...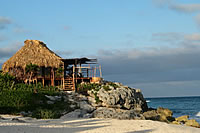 Forget about the overcrowded 1960s hotel blocks of Europe, guests at Azulik can relax in their own private cliff-top cabana. Each structure is made using organic wood, with a thatched roof and intimate terrace offering views over the ocean.

The west side of each building features a floor-to-ceiling window, with views of the jungle, and guests can enjoy a long soak in a bath carved from a tree trunk or perhaps watch the sun set from the outdoor hot tub.

Private steps lead down to the white, sandy beach and there is not a telephone, clock or television in sight - a luxury that enables guests to thoroughly relax and indulge, away from the hustle and bustle of everyday life.

Nic Havers, one of the writers lucky enough to visit the retreat, said that the owners have managed to create an ecological hideaway that effortlessly blends elegance with nature.

"Tulum itself is endowed with beautiful beaches, archaeological sites, natural pools called cenotes worn into the rock where you can swim and a rich, cultural heritage. It was an immensely difficult project selecting the world's coolest, sexiest holiday, but we've truly found it here at Azulik," he wrote.

Luciana Leguizamon, a spokesperson for the resort said that Azulik embraces a concept that reaches far beyond place and time and added that it will continue to live up to its new title as the sexiest place on the planet.

Just a short stroll down the beach, guests will find the crumbling ruins of the Temples of Tulum, which overlook the turquoise waters of the Caribbean and attract visitors from all over the world.

Meanwhile, a cycle ride to the south of Azulik will take you to the Sian Ka'an Biosphere, which is a protected coastal reserve home to over 300 species of bird, as well as jaguars and leatherback turtles.
Getting there
With airlines battling for our custom there should be no shortage of reasonably priced flights. Airlines serving Mexico include Virgin Atlantic, Continental Airlines, US Airways and Air France all serve Cancun.

And, like the pound, the peso has also taken a tumble of late so, if the thought of buying euros sends you into a cold sweat, Mexico could be the ideal destination for you.

So, if you've had enough of credit crunch doom and gloom, miserable headlines and snowstorms, then it could be time to cram you coolest, sexiest clothes into a case and visit Mr Pool Pech for some cosmic love.