Holidays in France

When most people think of visiting France, their sole aim is to enjoy the sights and sounds of Paris.  While this exciting city has much to offer, there are a number of things to see and do throughout the country.  Here are just a few of the many destinations that are well worth including in your next trip. 
Chateau de Versailles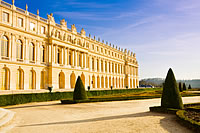 Known as the Castle of the French Kings, the spectacular gardens as well as the well-preserved castle itself will delight anyone with an interest in French culture and history.  Walking through the chambers at the Chateau de Versailles will remind one of just how grand and lavish living was at one time for royalty.  Located just twenty minutes outside of Paris, it is simple to fly into Charles De Gaulle International Airport and book accommodation that will make this an easy morning trip.  
La Rochelle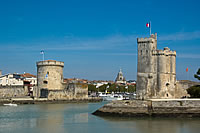 For anyone who wants to spend time in a quiet atmosphere, this charming fishing town located along France's Atlantic coast has much to offer.  In addition to the simplicity of the town itself, there are also many museums to enjoy.  A number of cruises make it possible to travel from La Rochelle to the nearby islands of Re, Aix, and Oleron.  At all these locations, you can enjoy peace and quiet as well as excellent food and pleasant surroundings. 

To get to La Rochelle, fly into the La Rochelle International Airport, or catch a TVG train directly from Paris.  
The French Riviera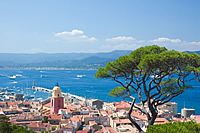 Properly known as Cote D'Azur, the French Riviera is actually a string of small villages and cities that offer all sorts of opportunities for guests.  Spend time in Nice and Antibes, as well as explore the more remote locations of Saint-Agnes and Saint-Paul.  Live as simply or as lavishly as you like, with everything from private cottages to luxury hotels available for your pleasure. 

Flying into the Nice is the easiest way to reach the French Riviera.  Rail travel is also a pleasant way to travel to and from the area.  If you prefer to drive yourself, use the A8 motorway.  
Bordeaux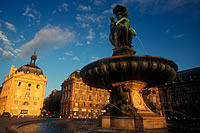 Considered the capital of the Bordeaux wine country, Bordeaux is located near the end of the Gironde River.  Anyone who enjoys fine wine will be happy spending his or her days trying different vintages produced in the area.  Along with the spectacular wineries and great food, there are also beautiful footpaths to explore, plenty of shopping opportunities, and a thriving nightlife waiting for you.  

Flying is the easiest way to reach Bordeaux.  The Bordeaux-Merignac Airport is located west of the city.  Regular bus routes run into the city each hour. 
Courchevelles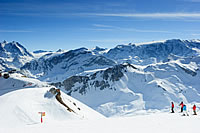 Located in Haute Savoie near the top of the French Alps, Courchevelles offers some of the most spectacular skiing found anywhere in the world.  However, there is a lot more to do here than play in the snow.  Enjoy mountain climbing expeditions, first class cuisine, and the opportunity to get away from all the fuss of daily living for awhile.  Even during the summer months, when skiing opportunities are limited, there is still plenty to do and lots of beautiful scenery to enjoy.

Courchevelles can be easily reached by flying into the Grenoble Isere Airport in nearby Grenoble.  However, you can also fly into Geneva located in Switzerland, and then use rail service to reach the city.  
Trouville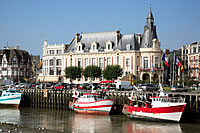 If gambling is one of your favourite pastimes, then Trouville is a destination you must include in your travel plans.  Located in Normandy along the North West Coast, the city is regarded as being one of the most beautiful places in the country.  Graceful mansions hug the seashore, providing a beautiful backdrop to the sandy beaches.  

You will also find a casino right on the beach, making it possible to enjoy the sun and then rest at one of the gaming tables.  For history buffs, Trouville is very near the location where troops landed in Normandy on D-Day, helping to bring an end to the occupation of France during World War II. 

While you can use rail service to reach Normandy, motoring into Trouville and nearby Deauville is your best option.  Take the A8 motorway, and then switch to the D677 in order to reach both cities.
Chateaux de la Loire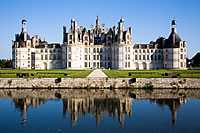 If you really want to become better acquainted with some of the most beautiful castles on the European continent, then the Loire Valley is for you.  The Chateaux de la Loire is a collection of over ten different castles that are found along the banks of the Loire River.  Situated in the middle of France, the Valley offers fine dining, beautiful surroundings, and some of the most exquisite castles anywhere. Plan to remain here for several days if you want to really explore the area in detail. 

When you are travelling by air, booking a flight to Tours will put you in close proximity to the Loire Valley.  You can also fly into the Charles De Gaulle International Airport in Paris, and then take a TVG train to the Valley.  For travellers coming in from a neighbouring country, look for connections on Eurostar for rail service into Paris, where you can then switch to a local rail to reach Loire Valley. 

Keep in mind that all these destinations offer more than can be truly enjoyed in a day or two.  If at all possible, plan your travel itinerary so that you can spend at least four to five days in every location you include in the trip.  Doing so will allow you to enjoy the local sights without feeling rushed, while also allowing you to rest in between trips to museums, historical sites, and also take in a bit of the night life offered along the way. 

Many more wonderful destinations await you in France.  With a rich history as well as a culture that has made an impact around the world, the country offers everything from exciting nightlife to quiet vistas that help to ease the troubled soul.  Consider making these and other French locations part of your next holiday.