Weddings abroad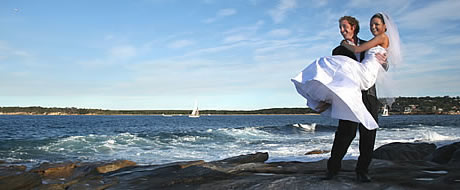 If the prospect of paying thousands to get married in the UK and having your wedding dress soaked with rain does not sound appealing, it may be time to consider hosting your nuptials abroad.
Planning
Planning a wedding overseas is not as difficult as it sounds and with a little careful planning you could be laughing all the way to the the Caribbean - and the bank.

Figures released by Mintel last year show that one in six British weddings now take place abroad, equating to around 51,300 annually and an increase of 43 per cent since 2003. Just 28 per cent of adults say they would like to be married or attend a big wedding at home.

Tom Rees, a senior travel analyst at Mintel, said overseas weddings are increasing in popularity due to the willingness of couples to break with social convention and experiment with unusual wedding styles.

"Overseas weddings offer exotic but affordable versions of celebrity-inspired weddings. As the credit crunch bites and recession looms, this could be the perfect cost-saving measure allowing couples to have the wedding day they have always dreamed of," he commented.

For many brides and grooms, the only downside of getting married abroad is putting the extra cost of travel on family and friends.

However, according to Mr Rees, this can easily be dealt with by encouraging guests to take their annual holiday at the same time.

"The wedding party could head out a few days earlier for stag and hen dos, but then recover separately on a proper holiday, before reconvening for the wedding. This would certainly present one solution to the issue of cost and over-spending," he added.
Destination
Choosing a destination is undoubtedly the biggest decision you will make when planning a wedding abroad and couples are advised to carry out plenty of research before taking the plunge.

The idea of a barefooted wedding in the Grenadines may sound appealing, but will it really be suitable for your older relatives?

On the other hand, a wedding in the south of Spain involves a relatively short - not to mention cheap - flight, guests can expect to find reasonably priced accommodation and you can tie the knot on a sun-soaked beach. Everyone's a winner.
Italy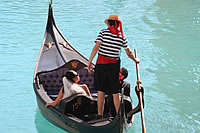 According to wedding specialist Confetti, Italy is one of the most popular destinations for Brits looking to tie the knot abroad.

Couples can follow in the footsteps of Wayne and Coleen Rooney by hosting their nuptials in a destination such as Portofino or Rome.

Civil weddings in Italy must take place in a Registry Office; however, according to Confetti, these are often located in historic buildings and "offer a lovely setting" for a wedding.

A Declaration of Intent must be filed at least two days before the big day and couples can expect the proceedings to last for around 30 minutes.

Most ceremonies are conducted in Italian, but interpreters can be arranged via the Italian Embassy.

Roman Catholic weddings can also be arranged in most cities; however, those arranging a ceremony for another religion most hold a civil ceremony beforehand.
Las Vegas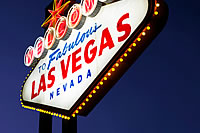 Couples attracted by the bright lights of Las Vegas will find plenty of options when it comes to weddings, from budget ceremonies to glamorous, champagne-fuelled extravaganzas.

Las Vegas is easily accessible from the UK and, according to Confetti, the easiest way to tie the knot is through a civil ceremony conducted by the Las Vegas Wedding Commissioner.

"Wedding chapels are a part of the myth of Las Vegas and most of the casinos and hotels contain at least one. These tend to be very elegant and much grander than the small independent chapels, so there is something to suit all tastes," the company noted.

For something a little different, couples can consult a Las Vegas-based wedding planner and get married by an Elvis impersonator or at the edge of the Grand Canyon.
Barbados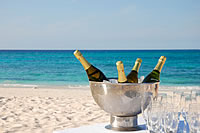 Barbados If the prospect of getting married on a white, sandy beach in the Caribbean sounds appealing, then Barbados could be the ideal option.

One of the easiest places to organise a wedding, Barbados is an excellent choice for British couples who don't want the hassle of dealing with language barriers. After all, a misunderstanding while arranging your wedding could have bad consequences. Who ordered the ice sculpture of the Queen and the Turkish belly dancers?

Those looking to host their nuptials in elegant surroundings can head to one of the luxury hotels on the west coast, while couples wanting something a little different could consider one of the hilly headlands or ancient caves.

According to Confetti, civil or religious ceremonies can be held in Barbados and the range of possible venues is endless.

However, to hold a ceremony in a Catholic church, couples must arrange for their local bishop in the UK to send documents and a testimonial letter to the bishop of Bridgetown.
Preparation
The Foreign and Commonwealth Office advises couples to contact the British Embassy in the country they wish to marry for more details.

Advice and information on visas and documentation can also be obtained from the country's local authorities. Couples should note that it can often take months to organise and some destinations may require you to be resident for more than 30 days prior to the ceremony.

Those tying the knot overseas are also advised to take out a specialist travel insurance policy and obtain written quotations from venues and wedding planners before committing to anything.

Wedding parties jetting off to warmer climes should also find out about vaccinations before travelling - contracting a tropical disease could put a dampener on things.

Figures from Mintel show that average UK wedding costs over £20,000, while a wedding abroad comes in at just £6,500. So, what are you waiting for? Do the maths and get cracking.