The Greek Islands

Different demographics tend to want different experiences on their travels, but some places can accommodate all ages. The Greek Islands, with their mixture of tranquillity and festivity, can seemingly cater for both the older and younger holidaymakers.
For old and young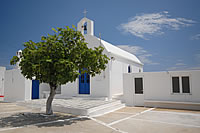 The Greek Islands offer much to travellers of all different ages, but the younger generation may well be looking for something a little different to older holidaymakers when heading to the plethora of destinations available.

As for the older traveller, they will most likely be looking for the Greek dream of a quiet island which may include places with historical significance. Serifos, for example, is home to small fertile valleys and narrow stone-paved streets as well as a castle surrounded by windmills.

Siphnos, meanwhile, offers the older traveller white chapels and some impressive views. Sifnian pottery is produced on the island, while there are hundreds of churches to look around as well as monasteries and chapels.

Over in Mykonos, travellers are treated to golden beaches, which may well attract those seeking a quiet retreat. As for other highlights on the island, there are a number of tavernas to try out, as well as folk art shops and places selling jewellery and furs.

Delos, with its archaeological treats, could certainly prove a draw for history fans. It is also known as the birthplace of Apollo and Artemis.
For the younger traveller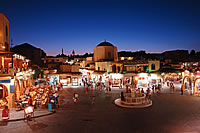 Young people and partying are practically synonymous with one another. Younger travellers will most likely be attracted to the various party hotspots that the Greek Islands have to offer, but what other activities can they get up to?

The beaches offer the slightly more fresh-faced holidaymakers a wide range of activities to be enjoyed. Many of them have been given the blue flag under the Blue Flags of Europe programme and offer activities including scuba diving, snorkelling, water skiing and windsurfing, among others.
Gastronomic treats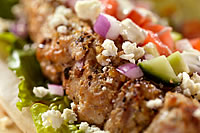 Food is surely something that people of all ages can enjoy together and Greece in general has plenty to please travellers' taste buds. Greek olive oil is something that will be found in the majority of traditional dishes and, as the old truisms about Mediterranean diets tell us, are good for people's health. Seafood from the Mediterranean Sea is on offer to holidaymakers, with charbroiled fresh fish considered to be a notable delicacy. Greek cheese, feta in particular, can be tested out by hungry holidaymakers. As for meat eaters, lambs and goats in Greece are free-grazing, while pastures are particularly rich in herbs, meaning that they have a unique taste to them that cannot be found anywhere else on the planet.

As for drinking - again likely appeal to young adults and older travellers - Greece is known for its ouzo and wine. The latter is something of a particular speciality on the islands of Chios and Thassos, which were the birthplace of the first VQPRD (Vin de Qualite Produit Dans Une Region Determinee) wines in history. In Greece there are four categories of Greek wine, including the Controlled Appellations of Origin, the Appellations of Origin of Superior Quality, local wines and table wines.

There are 20 areas which currently have the right to Appellation of Origin. On the islands of Paros, Limnos, Rhodes and Santorini as well as on Crete there are the Appellations of Acharnes, Peza, Sitia and Daphnes. Over on the Ionian islands there is the Robola of Kefalonia Appellation.

There is also a distinct atmosphere when it comes to dining on the Greek Islands. This may appeal to those holidaymakers looking for a social affair when they eat out, with the Greek word symposium translated literally meaning "drinking with company".

Fresh vegetable and fruit are also gastronomic highlights in the Greece region, with a choice of grapes, peaches, cherries and watermelons among the natural treats on offer.
Popular destinations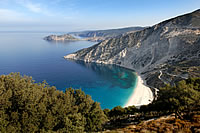 So where exactly is proving popular in the Greek Islands at the current time? Mike Mason from Greek Island Postcards, which sees 10,000 unique visitors a month in the summer season, has reported that his top-selling destination has been Kefalonia, selling almost a third more than the nearest rivals Corfu and Rhodes.

"By far the most popular island group is the Ionian where sales are very buoyant, Kefalonia and Corfu as I have mentioned but also Zante and Lefkas and notably the tiny islands of Paxos and Ithaca. It may be the shorter flight times (they are closest to the UK) and cheaper air fares," he commented.

It seems that the Greek Islands' popularity among Brits has not dwindled either. Mr Mason reported that he has seen no drop in UK holidays to the islands this year, even in the current economic downturn. He stated that, if anything, he expected sales to be a good deal up on levels seen last year.
Saving the pennies
During these difficult economic times, those making their way to the Greek Islands will most likely not want to overdo it when it comes to their outgoings, so bartering may have to be an option. A recent report from Visa Europe has indicated that Britain has become a nation of holiday hagglers, with a quarter of Brits now always negotiating to get improved deals before they head off on their trips away. Just 11 per cent of Brit travellers accept the first price that they are quoted for a getaway.

However, it seems as though Brits' thriftiness is disregarded as soon as they reach their destinations. The same research revealed that 39 per cent admit they will blow the budget on their trips away this year, while 63 per cent will overspend by up to £200 a week.

Sean Tipton, spokesperson at ABTA - The Travel Association, claimed that it is actually quite difficult to haggle with travel companies, but there are ways to save money on bookings. "The travel industry is incredibly competitive in the UK already. The margins are very low, they will keep their prices as low as possible.

"Don't necessarily think the first price you see is necessarily the best, shop around. That's the way to get the best deal," he commented.

Whatever price holidaymakers, both young and old, manage to get travel companies down to on their trips to the Greek Islands, it seems as though they are likely to find something to satisfy their needs.