Rhodes Cheapest Fares
The lowest fare found to Rhodes (RHO) was £124 with EasyJet. The fares shown here are the lowest flight prices to Rhodes obtained in actual searches by Just The Flight customers. To search and book flights to Rhodes in 2022 and 2023, please enter your requirements and click the search button above.
Rhodes celebrates History and Culture at Medieval Rose Festival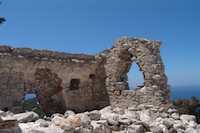 The Mediaeval Rose Festival is held every summer on the beautiful Greek island of Rhodes, and is a great way to get in touch with the fascinating history and culture of this area. It aims to recreate a sense of life on the island in the Middle Ages, and includes a range of exciting cultural activities and events for visitors of all ages.
During the week of the festival, the streets are filled with all kinds of characters – there are knights and ladies, alchemists and guardsmen, and even a dragon if you look hard enough. There are performances of traditional dance and music, a Mediaeval Fair, games and activities, and a spectacular opening and closing ceremony.
The festival is held in the Old Town, within the boundaries of the impressive town walls. These defences date back to the mediaeval era and have been designated as a UNESCO World Heritage site, as they have been well preserved to date, and they make the perfect backdrop for this kind of event. Visitors can enjoy exploring the picturesque courtyards and narrow winding streets on the tours of the Old Town, getting a feel of what life would have been like for the people that walked the same routes hundreds of years before.
Rhodes can be a great place to visit at any time of the year, but making a trip during the Mediaeval Rose Festival can be a wonderful way to sample island life. With a wide range of flights available to the local airport from large European transport hubs, the area is easy to get to and well worth a visit.