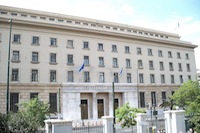 Book cheap flights to Greece by selecting an airport destination in Greece below. Compare flights to Greece from over a hundred airlines worldwide and book online with us today.
Greece is a beautiful and dramatic country offering diverse landscapes across the mainland, and surrounded by individual and unique islands. The Greeks are renowned for their warm welcome, delicious Mediterranean cuisine, and classic philosophical past, guaranteeing there is something for everyone who visits.
The easiest way to get to Greece is by air and there is a choice of many different airports depending on your final destination, with scheduled flights arriving at Athens, Thessaloniki, Rhodes, and Crete. Travel between cities could not be easier with a comprehensive public transport network of buses as well as regular ferries for those visiting the various islands.
Greece is steeped in ancient history and visitors can enjoy hundreds of famous landmarks and monuments including the Acropolis in the south-eastern region of the capital city of Athens, the theatre of Dionysos, and the Doric temple of the Parthenon. For a more modern experience, visit the vibrant towns of Athens, Thessaloniki, and Patra, which offer a variety of shopping centres and markets, cafes and restaurants, and lively bars and nightclubs.
Travellers wishing to make the most of their visit can take an organised tour lasting one or more days to popular destinations by bus, boat, or even on horseback. Sports fans can enjoy diving, kayaking, and trekking as well as a trip to historic Olympia, where the Olympic games first began.
Greece has recently been in the news because of economic crises leading to a major recession in this beautiful land. However, the warm weather and stunning scenery together with traditional Greek hospitality ensure tourists are assured of a memorable visit whatever their tastes and budget.