Leros Cheapest Fares
To search and book flights to Leros in 2020 and 2021, please enter your requirements and click the search button above.
Leros provides a peaceful retreat in the Aegean Sea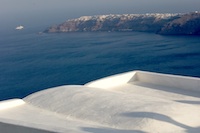 Unspoiled and authentic are two words used to describe the small Greek island of Leros. With a unique history that includes being used by Germany as a naval base and by Italy as a political prison, it was not until recently that the island was opened up to tourism at all. Being an 11-hour ferry ride to reach it, it is no wonder that it has remained virtually untouched in many ways by the modern hustle and bustle that has grown up in larger cities such as Athens.
The inhabitants of Leros have retained the authentic colours and traditional architecture in their villages along with their cultural and religious influences in the many festivals that take place. While none are very large, they all exhibit the cultural beliefs that are important to the people, especially religious festivals. People who visit the island find one of the least touristy areas left in the Greek islands, though all of the amenities one can want can be found at the large resorts that have opened up here since it has been opened up to tourism.
Leros' coastline stretches for nearly 60 kilometres, providing plenty of beach space for visitors who want to sunbathe, swim in the turquoise waters of the Aegean Sea, or picnic on the shores. Accommodation and taverns are available in all of the villages located on the island, making it a nice place for a quiet, relaxing holiday away from everyday life.
Nightlife on the island is subdued but there are a few bars and clubs scattered around the island. There is truly something for everyone on the beautiful island of Leros!