Samos Cheapest Fares
To search and book flights to Samos in 2020 and 2021, please enter your requirements and click the search button above.
Sun, Sea and Sand for an Enjoyable Island Break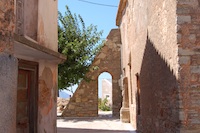 Samos is a large Greek island in the north eastern Aegean Sea, almost within touching distance of the coast of Turkey. It is steeped in history and will be attractive both to visitors who are fascinated by the archaeology of ancient Greece and those looking for a sun-drenched beach holiday and the ultimate in relaxation.
Pure white sand defines the beaches of this destination and the island is full of picturesque villages, beautiful scenery and many dozens of tavernas and restaurants, where you can find great local food and wine.
The island has a strong connection with some of the giants of Greek philosophy and science, including Pythagoras, who was born there. There are many museums, ancient temples and archaeological sites to satisfy the deepest curiosity of visitors to this gem of an island
Crystal clear waters are a feature of the beaches around Samos, ideal for swimming and snorkelling. Some of the larger beaches have sun beds and parasols, as well as tavernas either on the beach itself or close by. Visitors can choose the busier stretches or drive out to more secluded spots where they will find extra peace and quiet.
The towns are the best places to go for a varied nightlife, though small tavernas will often have live music to entertain visitors who are eating and drinking. Every summer the island stages a rock festival featuring local groups and famous Greek rock bands.
There are many hotels and other types of accommodation in all parts of this beautiful destination, which will suit every price range, providing comfort and relaxation during your stay.