Naxos Is Cheapest Fares
The lowest fare found to Naxos Is (JNX) was £375 with KLM. The fares shown here are the lowest flight prices to Naxos Is obtained in actual searches by Just The Flight customers. To search and book flights to Naxos Is in 2022 and 2023, please enter your requirements and click the search button above.
Dionysia in Naxos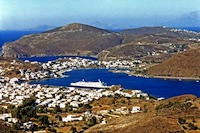 During the hot summer months the Cultural Organization of the Municipality of Naxos organises many diverse events, a lot of which are held in outside venues in various villages and towns across the island. There purpose is to both entertain visitors to Naxos and offer them a wide view of the different aspects of life on this island destination. Collectively known as the" Dionysia", as were the festivals held in ancient Athens in honour of the god Dionysius, these events include concerts, theatrical performances, and exhibitions of art, sculpture, and photography
Religious festivals are an integral part of community life on Naxos. They are a colourful and lively form of celebration that has been handed down through many generations. Hora, the major town on Naxos, is where the biggest and most popular of these festivals take place, but every village has at least one festival that is their own, Each festival provides any opportunity to enjoy traditional Greek dancing ,music ,and delicious Greek cuisine.
Most of these festivals are held in the summer months when there is also the opportunity to visit a unique type of open- air theatre, exclusively Greek and one of the best loved forms of Greek entertainment. After a long day of sightseeing, it would be hard to resist the pleasure and beauty of a summer night spent drenched in moonlight watching your favourite romantic story unfolding on the movie screen in front of you. Events like these make Naxos one of the most romantic destinations in the Greek islands.