One of the hottest European beaches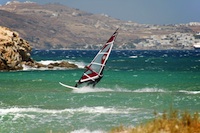 Papafrangas beach in Milos, Greece has been listed among the Sunday Times' 20 Hottest European Beaches. Milos may be a lesser-known island but it sports some of the most stunning beaches and Papafrangas is no exception.
Papafrangas beach is actually a narrow strip of sand, leading to a deep pool of pristine blue water. It is the perfect destination for snorkelling, diving and sunbathing. Sea caves offer an exciting snorkelling experience, while the white cliffs provide an excellent platform for diving, with smooth ledges for sunbathing.
Papafrangas also possesses two caves connected by an underpass. It is speculated that the caves were used as pirate hide-outs centuries ago. It certainly makes for a unique photo opportunity.
Milos is a largely undiscovered island, which adds to its appeal. It has the most interesting coastline of any other island of its size in the world. This destination's volcanic origin makes for colourful rock formations and more than 70 distinct beaches. White, pink and black sand beaches are unforgettably contrasted against azure, emerald and violet sea water. This island destination also boasts hot springs, secret lagoons, grottoes and crystal clear fjords.
As well as sunbathing and snorkelling, the island offers numerous other activities like sea-kayaking, scuba diving, sailing, mountain bicycling, trekking, distance swimming and windsurfing. Only 30 minutes from Athens by air, August in Milos is said to be the season for lovers, as couples of all ages flock to the island. Weddings and honeymoons on the island are increasing in popularity.
For couples who fancy a beach wedding or quiet honeymoon, Papafrangas is a stunning location offering undiscovered peace.