Chios Cheapest Fares
To search and book flights to Chios in 2020 and 2021, please enter your requirements and click the search button above.
This beautiful island in Greece is a hidden gem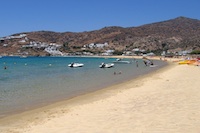 For an exotic destination, book your next flights to the island of Chios, Greece. Located between Turkey and Greece in the Aegean Sea, Chios is a paradise like no other. It is fully equipped for those seeking luxury accommodation, car hires, and unique shopping opportunities.
The airport is a mere three kilometres from the centre of town, which makes travel very convenient. Once you arrive at your destination, you will be amazed at the amount of activities and attractions available, such as local museums and beaches. Hidden amongst the capital's narrow streets are the castle and the Genovese mansions that remain Chios' main building attractions. These spectacular buildings were spared from destruction during Turkish rule and remain a marvel of the island.
Some of the local attractions of Chios include the 11th century monastery of Nea Moni, which is a UNESCO World Heritage Site. Visitors can also take in the mediaeval Kambochoria villages or just lay back and relax on one of the many breathtaking beaches. Some of the better-known beaches include Lithi, Nagos, Kargas, and Giossontas as well as Homer's Stone at Daskalopetra.
There are a large number of festivals celebrated in Chios including the Anniversary of their Independence which takes place in early November with dancing, food, festivities, and Greek alcohol. However, one of the most celebrated festivals is the small ships. Each New Years Eve, the traditional event sees teams of participants preparing their 5.5-metre handmade battleships. This huge event is in celebration of the Greek victories during the Balkan wars.