Egypt and Turkey

With the euro and the pound approaching parity, it's little wonder that Britons are deserting traditional holiday destinations such as Spain and heading further afield in search of bargains.
Brits holiday outside the eurozone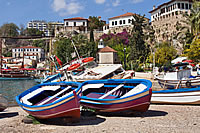 A recent report published by the Association of British Travel Agents (Abta) and the Foreign and Commonwealth Office suggested that instead of sacrificing their hard-earned holidays, an increasing number of Britons are travelling to destinations such as Egypt and Turkey which represent excellent value for money, with resorts such as Bodrum and Antalya proving particularly popular.

Figures from the report show that the number of Brits travelling to Egypt increased by 38 per cent in the last year, while the number of people holidaying in Turkey rose by 31 per cent.

Abta spokesperson Frances Tuke said that British travellers were becoming more adventurous and moving away from destinations such as the Balearics and Greek Islands. What's more, Ms Tuke claimed that those jetting off to Turkey and Egypt were often impressed by the exceptionally high standards of accommodation and visitor facilities.
Egypt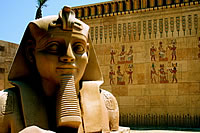 As the pound continues to plummet in value against the euro, British holidaymakers are set to flock to countries such as Egypt in their droves. Flight time to Egypt is around five hours and several airlines including easyJet, British Airways and Egyptair offer direct flights from the UK.

A destination renowned for its spectacular diving, miles of golden beaches and historical attractions, Egypt has a great deal to offer British holidaymakers and there is certainly no shortage of activities on offer.

According to the Post Office Holiday Cost Barometer 2008, Egypt is one of the cheapest places for Britons to travel to, with a bottle of suncream coming in at just £2.62, compared to £11.77 in Spain. Meanwhile, a bottle of Coca Cola come in at 52 pence in Egypt, compared to a whopping £2.52 in Greece.

Helen Warburton, head of travel at the Post Office, said that British holidaymakers are travelling further afield than usual.

"Sterling is up over eight per cent against the rand, making South Africa a good choice for UK tourists, and booming sales of Egyptian and Thai currency indicate that holidaymakers are already opting for trips where their pounds will stretch further," she added.

Some of Egypt's most popular areas include El Gouna, Cairo, Marsa Alam and Sharm el-Sheikh, which is one of the country's most developed resorts and is renowned for the quality of its hotels, water sports activities and golf courses. Sharm el-Sheikh is also widely considered to be one of the world's best scuba diving destinations, with its crystal clear waters, colourful corals and rare tropical fish.

Situated on the Sinai Peninsula, Sharm el-Sheikh is home to numerous sandy beaches including Naama Bay, Shark Bay and Sheikh Bay, which attract millions of water sports enthusiasts every year. Once the sun has set holidaymakers can head across the road to the strips of bars and restaurants which run across the main road. The evening is the perfect time to indulge in some retail therapy and most shops in Sharm el-Sheikh open until late.

When it comes to historical sights, there are few countries capable of matching the scale and quality of Egypt's attractions. A trip to the country is not complete without exploring the ruins of ancient Egypt and marvelling at the dozens of pyramids that dot the barren landscape. Constructed over 4,000 years ago, the three Great Pyramids of Giza were the final resting places for Egyptian royalty including Kings Cheops, Kefren and Mykerinos.

Holidaymakers flying to Cairo can also soak up some culture by visiting the old Islamic quarter of the city, which is home to ancient palaces, mosques and Koranic schools, as well as the monumental gateways of Bab el-Futuh and Bab el-Nasr.

When it comes to buying gifts and souvenirs, the city's Khan el-Khalili bazaar is an ideal place to start, with everything from jewellery to semi-precious stones and rugs on offer.

Other attractions worth a visit include the Great Sphinx, which stands guard over the pyramids, and the Valley of the Kings, where the ancient tombs of Tutankhamun and Ramses the Great are located.
Turkey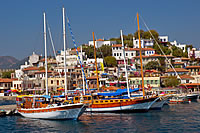 The number of British holidaymakers travelling to Turkey is likely to reach two million in 2009, as an increasing number of people snap up bargain deals to popular places such as Istanbul and Dalaman.

According to figures released by the Post Office earlier this year, Turkey ranks alongside Egypt as one of the cheapest destinations for British travellers, with the cost of a three-course meal for two with a bottle of wine coming in at £30, compared to £42 in Malta.

Speaking recently to the Telegraph, an Abta spokesperson said that Turkey is one of the few holiday destinations where it is still possible to find a dinner for two for under £20 and with the UK currency situation unlikely to improve anytime soon, demand for holidays in Turkey is set to soar throughout 2009.

Regular flights are available to from a number of UK airports including Heathrow Airport, Stansted Airport and Manchester Airport, with carriers such as Lufthansa, Turkish Airlines and Bmi providing services.

As with Egypt, there are plenty of attractions to visit in Turkey and with its golden beaches and clear blue waters, holidaymakers will be spoilt for choice when it comes to filling up their days.

One of Turkey's most popular holiday spots, Bodrum is an excellent choice for holidaymakers looking for entertainment, sun-kissed beaches and cultural attractions such as the Mausoleum, while the old city of Izmir is the perfect option for those looking to explore the country's rich heritage.

Some of Turkey's top visitor attractions include the Pamukkale, which is one of the natural wonders of the world and was reportedly formed more than 14,000 years ago. The Cappadocia region in central Turkey is also famed for its natural beauty and, according to toptenturkey.com, is home to over 600 rock-cut churches.
Other credit crunch destinations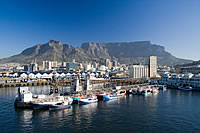 Aside from Egypt and Turkey there are still several other destinations where a pound still buys more than just a postcard. Other top credit crunch destinations, according to the trusty Post Office Barometer, include Thailand, South Africa, Bulgaria and Croatia, with Spain being ranked as the cheapest destination within the eurozone.