Long Haul Ski Destinations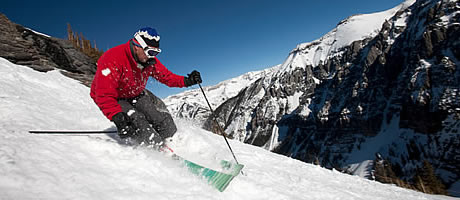 While many people think of a ski trip as something that is enjoyed over a long weekend, the fact is that there are number of wonderful long-haul ski destinations around the world.  These destinations offer excellent accommodation for anyone who wants to get away for an extended period of time and enjoy their favourite sport. 
The Long Haul
Embarking on a long-haul skiing holiday is a wonderful way to take your annual break (no pun intended). Or perhaps you need to get away for a special occasion, such as an anniversary, birthday celebration, or even a honeymoon trip. Here are a few examples of long-haul ski destinations that are worthy of consideration.
Switzerland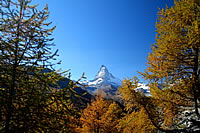 When most people think of skiing they tend to immediately think of the Swiss Alps.  There are in fact a number of excellent resorts there and a wide choice of accommodation that provides extended stay facilities for keen skiers.  One location in Switzerland hat has attracted a great deal of attention in recent years is Zermatt.  There it is possible to combine skiing and all modern conveniences with the charm of centuries past.  The major modes of transportation are electric taxis, ski buses, and charming horse drawn carriages that can take visitors to any part of the city that they desire to visit.  An impressive network of gondolas, cog railways, and cable cars make it easy to reach and enjoy a number of points along the slopes, with some of these means of conveyance able to lift skiers to altitudes that are in excess of 12,000 feet. 

While the first impression of Zermatt may be that the area is somewhat quaint, the fact is that it combines this Olde World charm with an amazing nightlife.  After enjoying the slopes during the day, it is a simple matter to find clubs and other night venues that offer an impressive array of music and entertainment, ranging from the soft and subtle to the wild and crazy.    While it does require a train ride of several hours to get to Zermatt from Geneva, the effort is well worth it.
Canada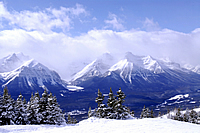 A bit further afield, Canada is an excellent long-haul ski destination.  Take a look at what Banff has to offer; the longer trip is well worth the effort.  Situated among the Canadian Rockies, Banff offers spectacular views as well as skiing opportunities for everyone from the novice to the pro.  Accommodation is very comfortable, the local residents friendly, and the cost can be very reasonable for someone who wants to have an excellent experience for less money.  As with many of the best long-haul ski opportunities, the procedure is to fly into a larger city and finish the journey to the ski resort via shuttle.  With Banff, this is accomplished by flying into Calgary and taking an airport shuttle directly to the city. 
Slovakia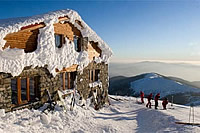 Back on the European continent, planning a ski trip to the Tatra Mountains in Slovakia might be just the thing for you.  Like Zermatt, there are many areas in Slovakia that have an eclectic blend of the old with the convenience of the new.  The setting itself is somewhat like the vision of villages conjured up by children's fables.  However, the skiing is usually so varied that it is possible to find something that is right for just about everyone.  Among the snow activities that are most popular include the option of night skiing, something that is not always available in many of the better known resorts around the world.  Another benefit is that this location is still somewhat of a secret, meaning that there is a good chance you can enjoy excellent prices for your accommodation as well as reasonably priced transportation to and from the area. 
Japan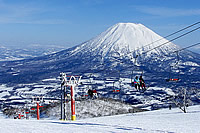 For something different consider a trip to Hokkaido Island, in Japan.  Yes, it will be an expensive holiday but what a once in a lifetime experience!  The volcanoes that make up the island offer some excellent options for long haul skiing that are hard to match anywhere else in the world.  One of the factors that makes this destination such an excellent choice is the quality of the snow.  With the ranges covered with an ample coating of snow that is dry and powdery, skiers of all skill levels will find that it is possible to manoeuvre with great ease, which only helps to make the skiing experience more rewarding.  To get there you can fly into Sapporo, and then take the train and a series of bus transfers to arrive at Niseko. There is a wide range of accommodation that will fit just about any budget. 
USA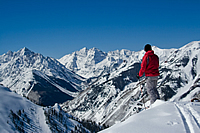 Skiers with a desire to enjoy a long-haul ski trip somewhere in the United States will find that a trip to Aspen, Colorado is still worth the effort.  Considered to be somewhat over-hyped by many skiers, Aspen still has a bit of a small town flavour that makes it appealing for anyone who wants to combine peace and quiet with excellent slopes and possibly a little celebrity watching.  The pace is even and slow, and the area is also family orientated.  Adults can enjoy guided ski excursions, while the kids are provided with excellent opportunities to learn the basics of skiing under the watchful eyes of instructors who not only keep them busy, but also teach young ones the essentials of skiing safely. 
Other Ideas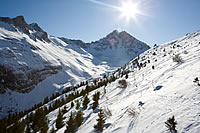 These are just a few suggestions for long-haul skiing opportunities that can be found around the world.  Other destinations in France, South America, and Russia are also ideal for anyone who wants to get away from it all and see something a little bit different.  Depending on how far you can travel and the amount you can reasonably afford to set aside for the trip, there is a good chance that at least one or two possibilities can be uncovered with a quick search online, or a visit to your local travel agency.  

As you consider different destinations for your a long-haul ski trip, it is a good idea to look closely at peak times associated with the destinations you are considering.  Often, it is possible to secure excellent accommodation for less by choosing to go off-season, even if the trip is planned for only a week or two before the opening of the official season.  Along with discounts on lodgings, there is a good chance you can also enjoy reduced rates for transportation to and from your destination, as well as special pricing on restaurants and other forms of entertainment in the area.