A holiday with a difference

Starting to get sick of the same old sun and sand holidays and city breaks? Why not try something new for a change? The world is packed with destinations and activities that offer refreshing, eye-opening experiences for all - all you have to do is ignore the herd and follow your own path to holiday happiness.
Variety is the spice of life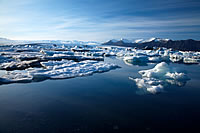 There are plenty of holiday ideas to pick from, as long as you know what kind of break you want. The best place to start is to choose a country to visit and go from there.

So if you're hankering for a sunshine-filled break but want to do something more than lie around on a beach all day, find out which unique activities are available in your chosen destination. For example, if you're heading to Australia why not opt for a camel safari across the outback rather than lazing on Bondi Beach?

Similarly, if you're bored of skiing but still want an active winter holiday, try travelling to somewhere like Iceland and take a glacier tour, explore the country's rugged terrain via snowmobile or indulge in some midnight golf. The key is to make your holiday as interesting and exciting as possible to make it a truly memorable experience.

"People are more adventurous. Analysts have said that it's more of an experience economy now, so people are looking for experiences as part of their holiday," comments Claire Lilley, head of research at Holiday Which?.

She adds: "People are going on maybe three or four holidays a year and they don't always just want to lie on a beach. They're looking for things like bungee jumping and skydiving and canoeing and horse riding and all the rest of it, so I think that is set to continue."
Into the paranormal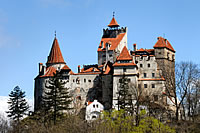 One popular type of alternative holiday involves visiting locations alleged to be the home of ghosts and other scary phenomena - perhaps inspired by the likes of programmes such as Most Haunted. While the sceptics among us will probably never give such breaks a thought, others might find them a bit more intriguing.

Just a few potential destinations for ghost hunters include the Hilton Hotel in Honolulu, Hawaii, which is thought to be haunted by a woman who was spotted wandering around the hotel in 1959 only to vanish before a witness's eyes, as well as the Buffalo Holiday Inn in Grand Island, New York, which has been the subject of numerous ghost stories over the years, according to whereintheworld.co.uk.

The ultimate spooky destination may well be Transylvania in Romania, which is the setting of Bram Stoker's 1897 novel Dracula and is home to an imposing castle and the birthplace of Vlad the Impaler, who it is thought by some that the character of Dracula is based on.

If you fancy taking a domestic flight and staying closer to home, the UK has many places alleged to be haunted or the scene of other strange goings-on in one way or another, according to spooky guidebook Enter If You Dare, orange.co.uk reports.

Dudley Castle near Birmingham is said to be frequented by numerous ghosts, while children have claimed to see money falling out of the sky in the churchyard of St Elizabeth's Church in Manchester - perhaps the perfect place to go if you're strapped for cash.
Weird and wonderful nights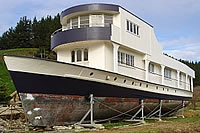 If being frightened out of your wits by things that go bump in the night isn't your idea of an enjoyable holiday with a difference, you could play it safe and instead opt to make your break unique by staying in a hotel that is far from traditional.

Among the more unusual hotels that can be found is the Plane and Train Motel in Woodlyn Park in Otorohanga, New Zealand. Guests can choose to stay in either a converted 1950s Bristol Freighter or a rail car, also from the 1950s, called The Waitomo Express.

If you're heading to Tokyo and appreciate the benefits of making the most efficient use of space, you may well want to spend a night or two at the Capsule Inn in Akihabara. Rooms consist of something that can only be described as a crawlspace in which you sleep. Thankfully, the washing and dining areas are somewhat bigger, so you won't be forced to dine on sushi while trying not to bang your elbows against the walls.
Education, education, education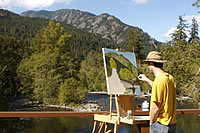 Learning might not be everyone's cup of tea when it comes to a relaxing break, but more and more people are in fact opting to combine a break abroad with brushing up on skills and knowledge in various areas.

One popular area is the arts, particularly writing and painting. A quick search of the web yields plenty of companies specialising in offering breaks headed by a well-known author or painter willing to teach you the finer points of their craft - all you have to do is a book a flight to get there.

Common destinations for this kind of holiday tend to be those thought to be inspiring for creative types - think the rugged landscapes of inland Spain, the picturesque views of Turkey and the exotic atmosphere of Thailand.

More 'out there' types of educational breaks include signing up to learning camps to find out all about professions and pastimes. Travel + Leisure magazine has a diverse list of some of the things you can do at these camps, such as training to be a gladiator in Rome, finding out about the ins and outs of space in Alabama, learning how to hunt for ghosts in New Orleans and looking after sick animals in South Africa.

"Many adults find a camp vacation to be more rewarding than a week at a resort," Peg Smith, chief executive officer of the American Camp Association, told Travel + Leisure magazine.