Fly East for Great Value

Tightening your purse strings doesn't have to mean sacrificing your hard-earned holidays abroad. There are still plenty of great deals to be had, and while the cost of living may be rising here, prices elsewhere are as low as ever. According to a recent study, holidaymakers travelling to the Far East will see their money go twice as far as those jetting to the the Caribbean
Beat the credit crunch in Thailand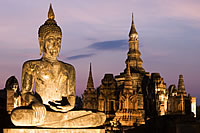 A country rich in history and of breathtaking natural beauty, Thailand is one of the most popular destinations in southeast Asia. With its bustling cities, pristine beaches and stunning cultural attractions, it's little wonder that an increasing number of Britons are succumbing to the country's charm. What's more, a holiday in Thailand doesn't have to break the bank.

According to the Post Office winter sun Holiday Costs Barometer, families can get much more for their money in the Far East than in many leading European holiday destinations. The cost of ten basic holiday commodities in Thailand came in and under £34, with the same items costing more than £71 in Jamaica.

Thailand is well-served from the UK, with many airlines, including British Airways, Qatar Airways and Thai Airways all flying there direct. Once there, the cost of food, drink, accommodation and travelling is relatively cheap and the country arguably offers much better value than other long-haul destinations.

Some of Thailand's top attractions include Ao Phang-Nga National Marine Park, Grand Palace and the Wat Phra Kaeo temple complex, which houses the famous Emerald Buddha.
Make your money go further in Malaysia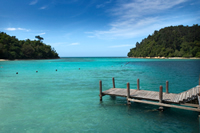 One of southeast Asia's most popular destinations, Malaysia is another country where visitors can expect their money to stretch further. According to the Post Office, the cost of ten basic holiday commodities, including drinks and eating out, comes to just £37.98 in Malaysia, which is just slightly more than in Thailand.

A stunning tropical island, where Chinese and Indian influences mix, Malaysia boasts dozens of pristine white, sandy beaches and unrivalled dive sites. The country is home to the Taman Negara National Park and the Famous Sepilok Orang-Utan Rehabilitation Centre.

According to Lonely Planet, those staying in Peninsular Malaysia can get by from as little as £15 per day, while holidaymakers can stay in relative luxury from just £60.

Travelling within Malaysia is also relatively cheap. The country is served by a vast and economical bus system, with long-distance taxis and rental cars also widely available.
Beat the credit crunch in Egypt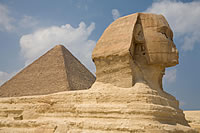 Closer to home, Egypt is another destination where travellers can expect to get more for their money. As a destination outside of the eurozone, Egypt is far cheaper than destinations such as Spain and France, and while flights to Sharm El Sheikh may cost slightly more than those to Malaga and Paris, holidaymakers can expect to save plenty once they arrive.

Once again, figures from the Post Office Holiday Costs Barometer show that Egypt is one of the best-value mid-haul destinations for British travellers.

The organisation states that Egypt is one of the fastest-growing destinations in the world, with currency sales up 19 per cent in the last year and with sterling continuing to fall against the euro and the dollar, it looks as though Egypt will continue to grow in popularity.

Visitors to Egypt can get by on as little as £10 per day, with the only major expense being entry into historic sites and transport. What's more, the price of most things is negotiable in Egypt and with a little bartering costs can be reduced even more.

A number of carriers including British Airways and Egyptair operate regular flights to Egypt throughout the year.
Cost-cutting tips
Wherever you go on holiday there are always to cut costs and keep unnecessary expenditure to a minimum. Top tips include booking during off-peak times and outside of school holiday periods, shopping around for the best currency exchange deals and arranging airport parking in advance.

Travellers can cut costs by changing money before flying and ensuring that luggage does not exceed maximum weight restrictions.

Booking flights in advance is also recommended, with the price of most tickets only getting more expensive as the departure date nears.

Other top tips include visiting the tourist office website of your chosen destination and finding out whether they have good deals on attraction passes and restaurants.

Travelling with family members can also help to reduce costs. In fact, a recent study by Saga revealed that an increasing number of Britons are now choosing to travel with their parents and extended family members in order to save on child care expenses and accommodation costs.

Opting for catered accommodation and all-inclusive packages can also be a cheaper option, depending on the cost of local restaurants and supermarkets.
Plan ahead
Finally, planning ahead, saving hard and researching your destination can also help to improve your travel experience.

A recent study by TripAdvisor revealed that 56 per cent of Britons plan to increase their travel spending over the coming year, despite the current economic climate, suggesting that the majority of people would rather cutback in other areas of their life than sacrifice their hard-earned holidays.

Furthermore, of those surveyed, 69 per cent said they would not let unfavourable exchange rates deter them from travelling within the eurozone.