Tokyo Narita (NRT) Airport Guide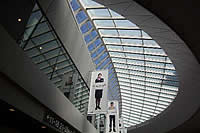 Located 40 miles east of Tokyo, Narita handles over 35 million passengers annually and is one of the country's busiest airports.
Tokyo Narita comprises two terminal buildings, which are connected by a free shuttle bus service. Airlines currently operating flights to and from the airport include Air France, British Airways, Virgin Atlantic and KLM.
Narita International Airport Amenities
The airport is home to a wide range of amenities and aside from the usual banking and postal facilities travellers will find a medical centre, dentist surgery, suitcase repair service and dry cleaning store.
Passengers will also find many weird and wonderful things including a pet hotel, which offers pampered pooches a place to stay while their owners are jetting around the globe. As well as accommodation the pet hotel also features a clipping salon, to help ensure dogs and cats are looking good upon their owner's return.
Tokyo Narita is home to an Oxygen Bar, where travellers can enjoy a good dose of O2 before taking to the skies, while passengers can also indulge in a reflexology session while they wait for their flight.
The airport's business centre is located in Terminal 1 and offers internet access, business card-printing services, and copying facilities.
Internet access is available at various locations throughout the terminal buildings at a cost of 100 yen for ten minutes. Wireless access is also available, although there is a charge for the service.
The airport is also home to a children's play area, nursery and kids' park, with baby carriages and prams also available to rent.
When it comes to shopping, passengers will not be disappointed and both terminals are home to a variety of stores selling gifts, clothes and travel essentials. Outlets include Lush, Seiko, Express Glass, the Museum Shop and the Oriental Bazaar.
The airport offers a good selection of fast food outlets and sit-down restaurants, with Japanese, Chinese and western cuisine on offer. Those hoping to sample some local delicacies can head to Nanosato, Sushi Yuraku and the Sky Kitchen, while those looking for European-style dining can head to Restaurant Avion in Terminal 1, which is a cheerful place offering a range of home-style dishes.
Terminals at Tokyo Narita
The airport's two terminals are separated by the air traffic control tower; however, a free shuttle bus service is available to transport passengers between the buildings.
Narita International Transport Links
Passengers arriving at the airport can travel by rail into the centre of Tokyo, with each terminal home to its own railway station. Buses and taxis can be found in front of both terminals and services operate to many of the city's major hotels and train stations. Those taking the bus should buy their tickets from the counters located in the arrivals hall.
Travellers making their onward journey from the nearby Tokyo Haneda Airport should have no difficulty in finding their way there. Trains run regularly between the two airports and journey time is approximately 105 minutes. Passengers can expect to pay around 1,500 yen for a ticket.