Korean Airlines Flights and Routes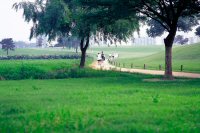 Korean Air fly to 14 domestic cities and 31 international countries including gunman, Beijing, Tokyo, Mumbai, Atlanta, Moscow and Sydney
Korean Air (KE), which is South Korea's national flag carrier, has introduced its first Airbus A380. After being built and ground tested by Airbus Industries in Toulouse, it landed successfully at Incheon International Airport. This first aircraft will fly the route between Incheon and Narita Airport in Tokyo. Eventually there will be ten A380s in the Korean Air fleet, operating services to Europe and North America, including New York and Los Angeles. The final batch of five A380s are due to be delivered in 2014.
The A380 is the biggest passenger aircraft in the world, weighing in at 560 tonnes and measuring 24.1m high. One double-decker A380 costs around US$375 million and has a maximum capacity of 853 seats. The aircraft first went into service with Singapore Airlines in 2007 and five further airlines, Air France, Lufthansa, Qantas and Emirates now operate it.
Korean's A380s have a total of 407 seats, 310 economy class, 94 business class and 12 first class. The reduction in seat numbers means much more space for passengers. Economy seats have been widened by 7cm to 86.3cm and the entire upper deck is reserved for business class passengers. There is also a bar and lounge, as well as a duty free shop on the lower deck, making this the first aircraft in the world to offer such facilities.
Korean Airlines is a member of SkyTeam