Grab a flight to ski heaven

Now that summer and most of autumn is over and done with, it might be time to start considering taking a well-earned winter break. Spending a few days on the ski slopes might be the perfect way to rejuvenate yourself in time for the new year - as well as keep the Christmas pounds off.
Ski Europe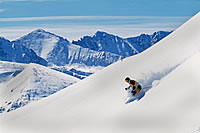 There are plenty of ski resorts to choose from around Europe, but where's the best place to go? That very much depends on your skill level as a skier - different resorts are geared towards different abilities, with a few catering for all. So it might be worth considering whether you're at beginner, intermediate or expert level before jetting off.

All that aside, there is one country that more skiers seem to flock to than anywhere else, according to one expert. Frances Tuke of the Association of British Travel Agents asserts that within Europe - which is the most popular ski region in the world - France is "number one".

"Austria used to be the favourite destination, but that has changed now," she comments. "Some time ago, after the French started to build up their resorts, France took over because of the convenience and the sheer scale of the resorts. It is so easy for us to go to Geneva, for example, and you have access to so many resorts from there."

So what are the options in France? If you're looking to take the entire family on a ski break, it might be worth heading to Grenoble, which is near the Les Arcs resort. It boasts 200 kilometres of slopes ranging up to 3,226 metres in altitude and is usually open from December to April.

Nearby, the charming pedestrian-only village offers numerous shops and restaurants to entertain those taking a break from the slopes, as well as a number of child-friendly attractions and plenty of bars for the evenings.

Meanwhile, the Les Menuires resort near Lyon is located in the Vanoise mountain range and offers skiing at altitudes of up to 1,850 metres. The entire ski area in and around the resort amounts to some 600 km of pistes and is suitable for skiers of all abilities. Elsewhere, Peyragudes, which has its closest French airport in Toulouse, is situated in the Pyrenees and has ski altitudes of up to 2,400 m.

Elsewhere, Chamonix offers some 145 km of ski trails, with a top elevation of 3,842 m. It is just a bus ride away from Geneva - allowing skiers to make regular excursions to the Swiss city.
Beyond France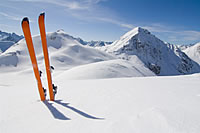 Fantastic skiing can also be found in other parts of Europe. Austria is a perennially popular choice, with the Stubai Glacier resort being one of the best. It is also the largest in the country and skiing is available at altitudes between 1,750 m and 3,200 m. Skiers can get to the resort by catching a flight to Innsbruck and heading 40 km south-west via a bus.

Italy is another popular ski destination, with resorts including Courmayeur near Turin and Fai della Paganella near Verona. Meanwhile, Pamporovo near Plovdiv in Bulgaria is an up and coming ski location that is perfect for both beginners and experts, and caters extensively for children.
Across the Atlantic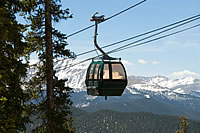 If you fancy heading further afield, North America is home to some fantastic resorts. Whistler Blackcomb near Vancouver in Canada is one of the world's most famous ski destinations and offers up 8,000 acres of ski terrain that rises a mile above the Whistler valley. The resort is not only popular with holidaymakers - it is set to have its turn in the professional sporting spotlight in 2010 when it becomes one of the venues of the Olympic and Paralympic Winter Games.

Heading south to the USA, many skiers fly to Denver and connect to Eagle County Airport before travelling to either Vail or Beaver Creek. Vail is divided into three areas, each with their own types of terrain and facilities. A total of 5,280 acres of ski terrain is available to explore, allowing visitors to enjoy plenty of space on the slopes - on a busy day skiers can expect to find just four people in each acre.

Meanwhile, Beaver Creek is an upmarket resort that has won a clutch of awards for its various offerings. It consists of three villages and lies close to two towns - Avon and Edwards - meaning that skiers will always be able to find something interesting to do. Its slopes go up to 3,488 m, with a total of four mountains to choose from.
Other considerations...
So when exactly is the best time of year to go on a ski holiday? "The top three times of year are [in the] new year [period], Christmas and February half-term," ABTA's Ms Tuke asserts. "The month of February is very popular because many of the French schools are off throughout the month, so that is the peak season really."

Another thing skiers should remember is the need for adequate insurance. Any sporting holiday carries a number of risks and, particularly in the case of skiing, it's best to be properly covered in case of an accident, Ms Tuke states.

"Skiing is quite a dangerous activity, so whereas with diving you don't need extra insurance on the whole, you certainly do with winter sports," she says. "If you have an annual policy and you are going skiing, you will have to put a winter sports add-on onto it."

She adds that first-time and beginner skiers should think about this in particular, as they are more likely to end up having an accident on the slopes.
Bad snow?
One concern in recent years has been that climate change may be resulting in lower levels of snowfall at some ski resorts, meaning that holidaymakers are left with below-par terrain in which to ski, as well as shorter ski seasons. However, the most significant effects are unlikely to manifest themselves in the near future, so why not make the most of the snow now and find yourself a perfect ski break in time for the winter holidays?