Hop on a flight to festival fun

Music festivals are all the rage these days, but their growing popularity in the UK seems to be leading to spiralling ticket prices and super-fast sell-outs. However, why settle for a wet and overcrowded weekend in the UK when you could turn the festival experience into a full holiday abroad?
The festival phenomenon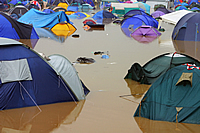 Festivals have enjoyed something of a renaissance in recent years, with the likes of the world-famous behemoth that is Glastonbury leading the way in the drive to get more music fans out of their bedrooms and into live music-filled fields.

However, with this explosion in popularity comes the knowledge that festivals aren't quite as niche as they used to be, with the biggest events now selling out within minutes of tickets going on sale - leaving hordes of fans disappointed. On the other side of the coin, last summer's less than inspiring weather also left many festival-goers resigning themselves to days filled with rain, mud and grey skies.

But it needn't be like this every year. More and more Britons are heading abroad in search of new, exciting festivals that do not necessarily cost the earth and take place in sunnier climes. The UK isn't the only place that hosts top-class festivals year in, year out - so why not head further afield and transform your festival getaway into your annual summer holiday?

"Savvy music fans are beginning to realise that many of the bands that tour the UK over the summer also do the music circuit in Europe, with the added advantage that ticket prices are often considerably lower, easier to get hold of and in venues or countries with considerably better weather," comments Sean Tipton, spokesperson for the Association of British Travel Agents (ABTA).

"With flights to Europe being at an all-time low, the savings you can make on the ticket costs will usually pay for the cost of your flight and your food and drinks whilst you are at the festival."
Where to fly?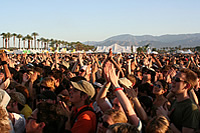 Outside of the UK, the possibilities for festival-goers are almost endless. You could go for a traditional sun-drenched event in the USA or Europe, or head off the beaten track and brave the cold in Iceland during autumn. Or perhaps go exotic and travel to the Middle East or Japan to get your live music fix.

If you're just starting out, it's probably best to head to the most popular festivals to get an idea of what overseas events are like. Benicassim in Spain (held in July) is one of the best-known European festivals and regularly attracts a stellar line-up - 2008 saw headline acts such as Leonard Cohen, My Bloody Valentine and Babyshambles, along with the likes of Spiritualized and American Music Club.

ABTA's Mr Tipton notes that the biggest and best overseas festivals tend to be located away from the usual resorts - something that could offer up a unique holiday. "The most popular venues are not at classic tourist resorts ... Benicassim in Spain is on the Costa Azahar, which is not in our usual haunt, the Costa del Sol, but is easily accessible from Valencia and near to some of the most stunning cities and beaches in Spain," he comments.

Elsewhere, Roskilde in Denmark (July 2nd to 5th 2009) attracts thousands of rock fans every year and has seen big names such as Bob Marley, U2 and Metallica entertain visitors over the decades Last year broughtThe Chemical Brothers, Judas Priest, Kings of Leon and Radiohead to the festival site, which is located some 35 kilometres from the sights and sounds of lively Copenhagen.

Over the Atlantic, Coachella in California (held in April) is accessible from Palm Springs and is the perfect festival for sun worshippers looking to get a tan while taking in the best new - and classic - music around. 2008 saw the Springs rock with the sounds of Pink Floyd's Roger Waters, Portishead, The Verve and Death Cab For Cutie, to name a few.
Away from the crowds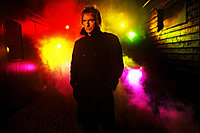 If you're craving a truly unique festival experience, why not seek out an event in an unconventional location? Mr Tipton of ABTA suggests heading to Serbia for the Exit Festival (held in July), which has been host to a superstar line-up to rival Glastonbury's - The Gossip, Paul Weller, 2ManyDJs, MIA and Primal Scream which were among those whoíve rocked the city of Novi Sad.

"For less traditional destinations, Serbia hosts one of the most exciting music festivals in Europe in Novi Sad and this year has an exceptionally good line-up with ticket prices starting at under €79 [£62]," he says.

"At the moment this market is still fairly small and those that have realised the massive savings to be involved - plus combining the experience of a holiday - are laughing all the way to the bank."

Another festival located some way off the beaten track is Austria's Nova Rock Festival (2009 dates not confirmed), which is set to see performances from The Verve, Sex Pistols, Motorhead, NOFX, Bullet For My Valentine and Sunshine and is situated in Pannonia Fields in Burgenland, between Vienna and the Hungarian border.

Or why not be truly offbeat and head to a festival outside of the UK summer season? Check out Iceland Airwaves in Reykjavik (October 15th to 19th) and mix live sets with sightseeing tours of the regions spectacular volcanic scenery, or head towards the sun for the Big Day Out festivals in Auckland, the Gold Coast, Sydney, Melbourne, Adelaide and Perth in January and February.