LAN Airlines Flights and Routes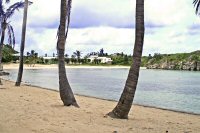 LAN are a Chilean airline serving routes in North & South America as well as Europe and Australasia
LAN Airlines (LA), along with its affiliates Lan Argentina, Lan Equador and Lan Perú, have signed an agreement with JetBlue Airways, a low cost airline based in the USA. As a result, customers travelling on the interline network of destinations used by LAN will now also be able to use routes operated by JetBlue Airways.
LAN Airlines, along with its affiliates, already flies to over 70 destinations worldwide. The latest agreement gives LAN passengers access to approximately 55 other cities throughout the Caribbean, Latin America and the USA. Passengers will also be able to take advantage of connections to JetBlue's international routes, which include Bermuda, Aruba, Saint Lucia, the Dominican Republic, the Bahamas and Jamaica.
In addition to an extended number of destinations from which to choose, anyone travelling with LAN will be able to enjoy a number of other advantages. For example, ticketing procedures have been made simpler, with only one ticket required for both the airlines. There is also only one check-in required for boarding passes and baggage for any flight. These features will be of great benefit for travellers from North American and the Caribbean who are taking multi-leg flights. Thanks to easier access to the network provided by LAN and its affiliates, travellers will be able to reach popular tourist destinations in South America; for example, Easter Island, Chile, Argentina and Peru.
LAN Airlines is a member of OneWorld