Rome Fiumicino (FCO) Airport Guide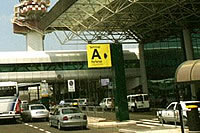 Rome Leonardo da Vinci Fiumicino Airport is one of Italy's main international gateways. Often referred to simply as Fiumicino, the airport comprises three terminal buildings, which are linked by a free shuttle service. Fiumicino is located 24 kilometres south-west of Rome.
Airlines currently serving the airport include Aer Lingus, British Airways and Emirates.
Rome Leonardo da Vinci Fiumicino Airport Amenities
Passengers travelling through Fiumicino Airport will find an excellent range of facilities on offer, including a catholic chapel and a multi-religion room - both of which are open daily. The airport is also home to two post offices and a baggage deposit area, where travellers can store their bags for six euros per day.
The Atahotel Executive Centre, located in Terminal A, has everything a business traveller could ask for, including meeting rooms, internet access, fax facilities, photocopying services and temporary offices.
Smokers will find a number of specially designated rooms around the terminal buildings, which are equipped with powerful aspirator systems to ensure the air remains clean.
Italy is well known for the quality of its shops and this also extends to the airport, where passengers will find over 160 stores. Travellers will find dozens of luxury and fashion brands on sale, including Gucci, Prada, Nike, Liu Jo and Guru. There are also a number of duty-free stores and shops selling Italian gifts, jewellery, food and perfume.
Serious shoppers can preview bargains and see photographs of all of the stores on Fiumicino's website.
There are dozens of restaurants dotted throughout each of the terminals, with a good range of international and Italian cuisine on offer. Eateries include the Duck and Dog Pub, Gelateria Crispino and the Frescobaldi Bar.
Terminals at Rome Fiumicino
Rome Fiumicino is home to three terminals - A, B and C - which are connected by a free shuttle bus service that operates at regular intervals from outside each building.
Rome Leonardo da Vinci Fiumicino Transport Links
Passengers can reach the city centre by taking the Leonardo Express train, which departs every 30 minutes.
Regular bus services are also available, with buses operating around the clock, with stops including Roma Tirburtina railway station and Roma Termini station.
Taxis are readily available and passengers can expect to pay around 40 euros for a journey to the city centre. Travellers are advised to avoid taxis which are not properly licensed or metered.
Travellers can also hire their own cars and rental desks are located in the domestic and international arrivals hall of each terminal. Companies operating at the airport include Avis, Budget, Easycar and Sixt. Passengers planning to travel to several destinations may wish to consider hiring a driver for the day, which can be arranged in Terminal A and Terminal B.
Rome's other main airport, Ciampino, is located 15 kilometres to the south-east of the city and is easily accessed by train.