Erfurt Cheapest Fares
To search and book flights to Erfurt in 2020 and 2021, please enter your requirements and click the search button above.
The Highfield Festival is Germany's biggest rock gathering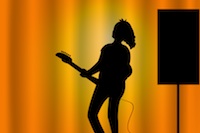 With more than 20,000 visitors expected to arrive at the destination, the Highfield Festival will not disappoint. Boasting a line-up of well-known artists and bands along with the wonderful backdrop of the location with the beach and lake as its setting, it is no wonder that crowds flock to this event and that it gets bigger each year it is on.
Erfurt is situated at the very centre of Germany and is the capital city of the Thuringia. The festival will take place on the waterfront of the Hohenfelden Reservoir and is seen as one of the largest independent rock events to take place in Germany.
There will be camping facilities for those who are attending all three days of the festival, as well as a separate area for caravans and mobile homes, though there is no facility for electricity. For those not wanting to camp, there are a number of hotels within close proximity to the venue as well as bed and breakfasts.
There are many ways in which anyone wishing to attend the Highfield Festival can get to Erfurt. There are no direct flights from the United Kingdom to Erfurt Airport but visitors can arrange a journey from a few United Kingdom airports with a number of stops along the way to the final destination. Erfurt Airport is situated around three miles to the west of the city centre and can be reached from Munich Airport that has a number of flights.