El Calafate Cheapest Fares
To search and book flights to El Calafate in 2020 and 2021, please enter your requirements and click the search button above.
The Ice Festival in Argentina is a popular event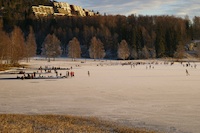 Every July and August in El Calafate, the Ice Festival takes place to celebrate a special time of the year. The festival happens over three consecutive weekends, paying tribute to many different aspects of the ice and events that take place in the area. It is a very popular event during the year, despite the location – El Calafate is the furthest south city in Argentina.
The Ice Festival has a great many events that include ice hockey clinics and lessons in ice skating. There are also a number of competitions in poetry and painting, snow sculptures and a torchlight parade. The activities at the festival have no age limit and both young and old can take part.
Due to the location of El Calafate, it makes the destination very desirable due to its beautiful scenery and locations. Due to its remote location, getting to El Calafate can take quite a long time. Flights will be the quickest route as a bus journey from Buenos Aires can take as long as 40 hours and there will be numerous stops during the trip. A quicker alternate to get to El Calafate would be to fly though, again, most flights are out of Buenos Aires and are very limited.
Despite its remote location, El Calafate is a very popular tourist destination and so there are a number of accommodation options available including plenty of resorts and hotels.