Ushuaia Cheapest Fares
To search and book flights to Ushuaia in 2020 and 2021, please enter your requirements and click the search button above.
A Trip to the Argentinean Deep South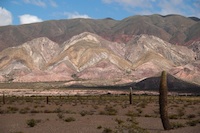 If you are looking for an unusual destination, Ushuaia could be the place for you. It is as close to the very ends of the Earth as you could possibly imagine. This Argentinean city on the Tierra del Fuego archipelago is thought to be the southernmost city in the world, right at the tip of South America. Situated between the Beagle Channel, named after the ship which later took Charles Darwin to study nature and eventually write his famous "The Origin of Species" and the mountains of the Martial Range.
Adventurers choose this destination for the opportunities to explore the wild landscapes, with glaciers, trails and rivers, as well as the ever-present sea. Kayaking, canoeing, catamaran and boat trips offer the opportunity to soak up the wildlife that sometimes seems close enough to touch.
Cormorants, sea-lions and penguins can be spotted and there is an abundance of bird life, which makes this destination a magnet for ornithologists and naturalists.
Many cruise ships, on their way to and from Antarctica, stop here and flights to the White Continent can be found for an experience of a lifetime. During the winter months there are opportunities for skiing and the town has several museums which detail the area's fascinating history.
There are several good hotels here and many hostels, which are popular with trekkers, walkers and climbers who find the magnificence of the surroundings a real challenge. Restaurants and bars are easily found, with excellent opportunities to sample traditional Patagonian dishes.