New York Kennedy (JFK) Airport Guide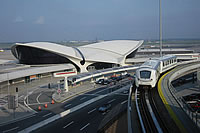 As the largest and busiest airport in New York, John F Kennedy International Airport (JFK) handles more than 40 million passengers annually and is one of America's main international gateways.
JFK is operated by the Port Authority of New York and New Jersey, and with over 100 airlines flying from nine terminal buildings, it dwarfs the city's other airports - Newark and La Guardia.
The airport is located on the Van Wyck Expressway, around 15 miles south-east of Manhattan and is a gateway to more than 50 countries.
John F Kennedy Airport Amenities
The character played by Tom Hanks in the hit 2004 film The Terminal managed to live quite comfortably at JFK for several months, so passengers should have no trouble whiling away a few hours.
JFK's amenities are second to none and there's certainly no shortage of bars, restaurants, shops, foreign exchange desks and cash points. Passengers will find everything from the usual array of fast food outlets found in most airports, to delis and Asian bistros.
Some of the more unique places include the Napa Valley Wine Bar in Terminal 1, which was recently named as one of Fine Living's top ten airport wine bars. The bar is a haven for those seeking refuge from the crowds and passengers will find a fine selection of California vintages on offer.
Other noteworthy eateries include the Brooklyn Brew Pub, Greenwich Village Bistro, Mex and the City and Deep Blue Sushi. Meanwhile, those looking to satisfy their sweet tooth can head to Creative Croissant patisserie, Everything Yoghurt and the all-American favourite Krispy Kreme.
JFK is the perfect place to pick up any last-minute presents, with dozens of high-street stores and designer boutiques. Passengers looking to splash the cash can visit Cartier, Hermes, Bulgari and DKNY, where the latest season's offerings are on sale. Other favourites include Dean and Deluca, Ferragamo, the Metropolitan Museum Shop in Terminal 4 and, of course, the World Duty Free store.
Free internet access is available in JetBlue's terminal, where customers can connect to the wireless network. Elsewhere, passengers will find internet plug-ins around all terminals. Fax, photo-copying and courier services are also available in most terminal buildings and business passengers looking for conferencing facilities can contact the on-site Ramada Plaza Hotel, which should be able to cater for most needs.
In addition, JFK is home to a medical building, full-service post office and an interfaith chapel, which offers regular services.
Passengers looking for overnight accommodation close to the airport will find plenty of hotels to choose from. The Best Western Kennedy Airport, Ramada Plaza and Comfort Inn JFK Airport are all within a two-mile radius and operate free shuttle buses for guests travelling to and from terminal buildings.
Terminals at New York Kennedy
JFK is home to nine terminal buildings, with the majority of international airlines operating out of Terminal 1, Terminal 4 and Terminal 7.
Airlines operating from Terminal 4 include Aer Lingus, Emirates and Virgin Atlantic, while Terminal 7 is home to carriers including British Airways, Iberia, Qantas and United Airlines.
The terminals are all located around the CTA (central terminal area) and travelling between buildings takes less than ten minutes. A free train service is in operation and taxis are also available for a small charge.
Shuttles operate every two to four minutes between 6am and 11pm, and every eight minutes at all other times.
Terminal 5 made the headlines last month after it was officially reopened following three years of construction work. The terminal is home to US carrier JetBlue Airways and will now handle around 30 per cent of JFK's annual customer traffic.
John F Kennedy Transport Links
An excellent transport network operates across JFK and passengers should have no problem accessing New York City centre at any time of the day or night.
The AirTrain JFK light rail system operates round-the-clock and connects most of the airport's terminal buildings to the New York City subway and Long Island Rail Road. Particularly useful during times of high traffic, the AirTrain also transports passengers between car rental facilities and major car parks.
Regular buses operate from all terminals, including the New YorkExpress Bus Service, which departs every 20 minutes and makes several stops in Manhattan.
There are a number of major car rental companies based at the airport and anyone willing to drive into the city can use the phone pick-up service to arrange a courtesy shuttle between the airport terminals and car rental sites.
Finally, if you've just stepped off a long-haul flight and do not fancy lugging your case on to a bus, then a taxi is the best option. Taxis are available at every terminal and for a flat rate of 45 dollars (plus tolls) you can travel to any Manhattan location. However, it is worth noting that the flat rate only applies from the airport to Manhattan - passengers making a return journey by taxi will be charged at the metered rate.